Georg Weissenbacher
Georg Weissenbacher

georg.weissenbacher@magd.ox.ac.uk

Wolfson Building, Parks Road, Oxford OX1 3QD
Interests
Automated software verification, model checking, decision procedures, logic.
news
I've graduated in September 2010 and joined Prof. Sharad Malik's group at Princeton University as a postdoctoral research associate.
featured publication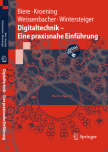 Digitaltechnik
Armin Biere, Daniel Kroening, Georg Weissenbacher, Christoph M. Wintersteiger
Links
Selected Publications
Interpolant Strength
Vijay D'Silva' Daniel Kroening' Mitra Purandare and Georg Weissenbacher
In Proceedings of the International Conference on Verification' Model Checking' and Abstract Interpretation (VMCAI). Vol. 5944 of Lecture Notes in Computer Science. Pages 129−145. Springer. January, 2010.
Extended version available as technical report. Download slides.
An Interpolating Decision Procedure for Transitive Relations with Uninterpreted Functions
Daniel Kroening and Georg Weissenbacher
In Kedar Namjoshi and Andreas Zeller, editors, Proceedings of the 5th Haifa Verification Conference. Springer. 2010.
This work was also presented at the UNU IIST seminar in Macau (click here for slides) in January 2010.
Program Analysis with Interpolants
Georg Weissenbacher
PhD Thesis 2010.
Info