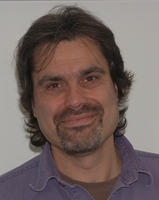 Dr Steve Harris
Research Officer
Leaving date: 1st April 2014
Themes:
Completed Projects:
See Also:
Interests
Steve is currently interested in practical semantics for data: finding ways in which the collection of semantic tools that has been developed over the last decade may be integrated and presented to users and developers so that they may be able to specify, develop and use information systems that gather well-explained, interoperable data.
Biography
Steve Harris graduated with a PhD in Physical Chemistry from the University of Birmingham in 1988.  After a spell in industry where he became a full time software engineer specialising in data-mining, CRM and warehouse management applications, he returned to the University of Birmingham in the late '90s to lead IT for two of the University's three clinical trials units. Here he overhauled information system provision in preparation for international collaboration, raised the capability-maturity of the department in anticipation of pharmaceutical collaboration, and developed systems to support multi-site warehousing for randomised double-blind study drug allocation. Steve also implemented a meta-data repository for the Birmingham Cancer Unit in support of continual process improvement in the management of clinical studies.
In 2001 he moved down to Oxford to help establish the NTRAC Head Office as IT Director, and a year later seconded to the Computing Laboratory (now Department of Computer Science) to work with Jim Davies to help develop Oxford University's contribution to clinical and bioinformatic e-Science, making contributions to the e-Diamond project, the National Cancer Tissue Resource, CancerGrid, the Particle Therapy Cancer Research Institute (PTCRI), the Union of Light Ions Centres in Europe (ULICE), the US caBIG program, the UK NHS Logical Healthcare Record Architecture and the MRC Data Support Service.
Steve has a practical interest in clinical information systems for research, medical informatics, medical research system security, health care system integration, knowledge representation, and all things XML.
Roles
Session Co-chair, Program Committee
Selected Publications
Activities
Completed Projects