Why Oxford?
Here are just a few of the things that we think makes being a postgraduate computer scientist at Oxford really special: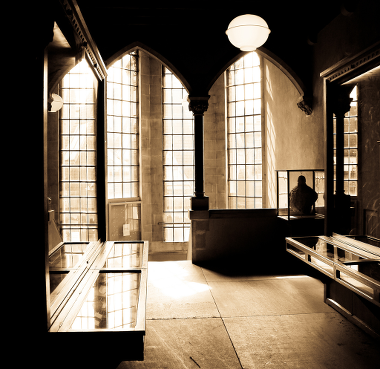 Photo credit: Lilla Rose First-rate support: You will receive close individual support from an expert in your field whose role is to guide your course and research.
Cutting-edge science in a historic setting: Join the top-ranked Computer Science institution in Europe, according to the latest Academic Ranking of World Universities, and become part of the oldest university in the English-speaking world, which has been educating world-changing leaders for over 800 years. Faculty, researchers and students are internationally renowned for developing new methods and technologies that have an enduring impact on academic, scientific and commercial enterprises.
Outstanding international reputation: The Department of Computer Science is home to a community of world-class research and teaching. In the most recent Research Excellence Framework (REF2014), 53 per cent of the department's overall research activity was rated as world leading.
Strong industry links: Researchers and faculty are working in collaboration with an impressive array of industry, academic and governmental partners, sharing knowledge and effort to solve tomorrow's problems today. Partner institutions in our research include companies such as Google, Intel, Microsoft, and BT, government and public-funded institutions such as the Department of Trade and Industry, the NHS, and other leading universities from around the globe.
Cross-disciplinary research opportunities: The Department has considerable experience of delivering large-scale interdisciplinary scientific projects. Current projects include: climate modelling, quantum information processing, heart and cancer modelling, computational linguistics, machine learning, sensor networks, and applications in engineering and finance.
Recognised and accredited: Oxford degrees are recognised globally for their quality. Our teaching staff includes members of the Royal Society, Royal Academy of Engineering, and the British Academy, as well as numerous other learned societies and influential bodies.
Growing and improving: With its solid theoretical foundation, the department continues to grow its applied research through interaction with industry, and its continued interest in multidisciplinary Computer Science, demonstrated by the rapid growth of our external research grant income in recent years. Our current portfolio of over 110 projects is funded by a range of sponsors including major research councils, charities and industry.
Excellent facilities: for academic work and for sporting, artistic, creative and social activities. Oxford also offers extensive support facilities, including the careers service and the Bodleian libraries, the world's most famous debating society, the Oxford Union, and dedicated support for international students.
A pleasant space for work: All of our PhD students are given their own desk and computer in a shared office.
Experienced in supporting students: The department is home to around 145 academic and research staff, 140 doctoral students and 350 MSc students. Our friendly team of administration and support staff is on hand to advise you through the application process, during your time with the department and beyond.
A variety of funding opportunities: From studentships to prizes, varied funding opportunities exist for home and international students.
Transferable skills training: We offer training in transferable skills, for example in public speaking, as well as running a comprehensive lecture and seminar programmes that attract a variety of international speakers.
The outstanding mix of people: Join a community where you live and study alongside people who are as passionate about your subject as you. The Computer Science Graduate Society (CoGS) provides a platform for the academic and social life of postgraduates in the department, representing students on university committees as well as organising regular social events for MSc and DPhil students, and postdocs to mingle and catch up outside their research groups. The Oxford Computer Society (Compsoc) is a student-run society, which organises social events, talks, and practical courses. The Oxford Women in Computer Science Society (OxWoCS) runs a number of academic, social, and career events throughout the year, including weekly coffee meetings, talks by distinguished female speakers, and industry sponsored events.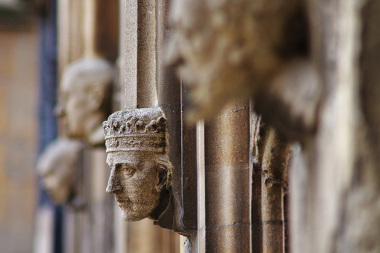 Photo credit: Charles Clegg The collegiate system is at the heart of the University's success. It gives you the benefit of belonging to both a large, internationally renowned institution and to a smaller, interdisciplinary college community. It enables leading academics and students across subjects and year groups, and from different cultures and countries to come together to share ideas. All Colleges invest heavily in facilities for an extensive library and IT provision, accommodation and welfare support, and sports and social events. The relatively small number of students at each college allows for close and supportive personal attention to be given to the induction, academic development and welfare of individuals.
Stunning and convenient location: Oxford is a lively and beautiful city with much to offer both students and visitors. Most colleges and departments are in and around the city centre and college accommodation is usually on the main college site, or in annex buildings only a short walk or cycle ride away from other college and university buildings. With Oxford being just 57 miles (90 km) northwest of London, you can be in the capital in an hour by train.
Family-friendly: Throughout the year the department runs a range of events and activities for graduate students, staff and their families, including festive parties, cake sales and an annual BBQ. The University Club also provides social, sporting and hospitality facilities for all postgraduate students. From dinner in the bar to the aerobics lessons, your partner is welcome to join The Club too.
Exceptional graduate employment record: Our reputation for excellence means our graduates are extremely sought after.
Preparation for the world beyond: Graduates of our course are able to select techniques most appropriate to their working environment, adapt and improve them as necessary, establish appropriate design standards for both hardware and software, train colleagues and subordinates in the observance of sound practices, and keep abreast of research and development.
A launchpad for entrepreneurs: Oxford University has a track record in innovation. Based at the Saïd Business School, the The Entrepreneurship Centre is the focal point for entrepreneurship: its programmes and events combine research and practical teaching of entrepreneurship to support entrepreneurs and high-growth companies. The Student Entrepreneur (sometimes know as The Shed) is a programme fostering entrepreneurship and enterprise. Oxford Entrepreneurs is the largest free business and entrepreneurship society in Europe with over 10,000 members including students, active alumni and external members.
Free coffee: With kitchens on every floor, you're never far from a free and unlimited source of tea or coffee.
.... and
more
.