The Fun of Programming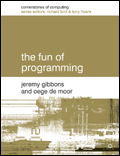 Edited by Jeremy Gibbons and Oege de Moor in honour of Richard Bird's 60th birthday. A symposium was held to mark the occasion. Information about the book and ordering details can be found here.
Some of the code and software from the book is available from the links below. Please note that the software versions will be those from around the time of publication of the book and are provided here for the convenience of those wishing to "dip into" the chapters or use a version known to work with the examples in them. If you want to use any of these pieces of software seriously, you are strongly encouraged to obtain the latest version from the appropriate webpage, linked below.
The entire collection is also available as a gzipped tar archive and a zip file.
Answers to the exercises for some of the chapters are available, and will be released to bona fide instructors. Currently this only includes chapters 3 and 5. Please contact Jeremy Gibbons for details.
---
Ganesh Sittampalam, October 2003.