What grades do I need?
(Standard Conditional Offers) & Subject Choice
Below we discuss the minimum (predicted) grades you will need to make a competitive application to our Computer Science undergraduate degrees. We also discuss subject choice. Further information about what our tutors look for in candidates is given on a separate page.
A-levels, IB & Scottish Highers
We will normally make an offer of A*AA on three A-levels including at least an A in Maths:
For Computer Science, and Computer Science & Philosophy students, the A* must be in Maths, Further Maths, or Computing/Computer Science. Those taking Further Maths A-level or AS-level are required to achieve at least a Grade A.
For Maths & Computer Science students: If Further Mathematics is taken, then including A*A between Mathematics and Further Mathematics; otherwise including A* in Mathematics. Those taking Further Maths AS-level are required to achieve at least a Grade A.
Where candidates are no longer able to take AS-levels, from 2015, the University's admissions process will continue to allow effective assessment of applications, including those from candidates taking linear A-levels. Read our FAQs on A-level reforms.
For those doing Advanced Highers or the IB, we will normally make offers as follows:
Students with Scottish qualifications would usually be expected to have AAAAB or AAAAA in their Scottish Highers. Supplemented by Advanced Highers: AA/AAB, which should include Mathematics to Advanced Higher (A grade). Including Mathematics to Advanced Higher (A grade).
IB: 39 points, including core points. Higher Level grades of 7 6 6 with the 7 in Maths.
Overseas Qualifications
We do of course accept applicants from around the world, with a wide range of educational backgrounds. There is a page on the University admissions site

that gives a good guide to the grades that we consider comparable to A*AA A-levels. So with a little consultation, any tutor will be able to work out what would be a fair set of conditions for you. But as a general rule we're looking for top-level grades in Maths, and also preferably science subjects. For Computer Science, Maths & Computer Science and Computer Science & Philosophy applicants we have some further requirements:
For those under the American education system, the standard offer is outlined here. In addition:

Candidates taking the old-style SAT reasoning tests (scored out of 2400) are required to have at least 750 in Mathematics.
Candidates taking the new-style SAT reasoning tests (scored out of 1600) are required to score at least 1470, including at least 770 in Maths.
Candidates taking the SAT subject tests are required to have at least 750 in Mathematics 2, and at least 700 in two other mathematics or science subjects.
Candidates taking Advanced Placement Tests are required to obtain Grade 5 in Calculus BC and two out of Biology, Chemistry, Computer Science, Computer Science Principles, Physics, and Statistics.
We don't make offers based on a GPA score, but if you wish to include this additional information, please ask your referee to mention it in the reference.

Polish Matura – at least 85% overall, with 90% in Basic and Higher Mathematics, and other relevant subjects (e.g Computer Science).
Romanian Diploma De Bacalaureat – an overall of at least 9.0 with at least 9.5 in Mathematics.
The Bulgarian Diploma – Overall score of at least 5.75 with 6 in Mathematics, and at least 5.9 in the state matriculation exam in mathematics.
For students under the Indian education system we do not require the Indian Institute of Technology (IIT) entrance examinations as a pre-condition for entry.
All non-native English-speaking applicants must satisfy the University's English Language requirements.

Vocational Qualifications: eg BTEC National Diploma
Competition for places at Oxford University is extremely strong, and all courses are academic in nature. Although Computer Science may suggest a more vocational style of learning, the courses are strongly academic in their focus. Academic qualifications such as A-levels, the International Baccalaureate or any other academic equivalent are strongly recommended as the best preparation for any course of study at Oxford. However, we also recognise the achievements of students who hold vocational, professional or other qualifications,

and these will be taken into account during the admissions procedure.
For students taking the BTEC National Extended Diploma in IT, a conditional offer will normally be: DDD in the Extended Diploma and A* in A Level in Maths.
Students taking BTEC National Extended Diplomas in science or engineering, or the new Tech-level/Technical Level qualifications will also be considered, but the above requirements for A-level Maths still stand.
English Language Requirements
All non-native English-speaking applicants must satisfy the University's English Language requirements.

Subject Choice at School
Maths, Further Maths & Science
As explained in our open day talks, Computing is a mathematical subject, especially in the way we approach it at Oxford. So you will need to know some mathematics, and more importantly, to have developed your ability in mathematical thinking.
For A-level candidates we require Maths to A2 (or equivalent), and we strongly recommend Further Maths to A2. However, we understand this is not always possible, and so we are happy to consider applications from people with a single Maths A-level, with or without Further Maths to AS-level. However, if candidates are studying Further Maths then we will expect them to do well. We consider Maths and Further Maths as two separate A-levels.
For those who are not taking Further Mathematics to A2, there are resources to help with the transition from school to university Mathematics.
We also recommend a science subject such as Physics.
Computer Studies or Information Technology
You don't need to have studied Computing at school to have a realistic chance of success in applying to Oxford. Though these subjects are relevant, the way Computer Science is studied at University level is quite different from the way it is studied at school.
Also relevant are the A-level Maths modules in Discrete Maths and Decision Maths; but, the way we study these topics at University level goes far beyond what you will have done at school, so it's no particular advantage to have studied these modules. On the other hand, if the sort of questions raised by these topics excite your interest, then perhaps Computer Science is the subject for you.
ICT isn't particularly relevant to us, so won't be considered a particularly positive point on your application, but it isn't "blacklisted".

Philosophy
Computer Science and Philosophy can be studied at Oxford without requiring any previous qualifications in either subject. Students who like the idea of doing Philosophy with a broadly scientific focus can apply, even if they have never previously studied either discipline.
Recent experience of writing essays, though by no means essential, would be helpful. (See guidance on Maths and Further Maths & Science above.) Further information is available on the Faculty of Philosophy

admissions webpages.
A-levels Taken Early, Module Marks (UMSs) and Resits
Please be aware that all courses at Oxford are academically rigorous. Tutors need to be convinced of your ability to manage an intense workload, so that you will be able to cope with the demands of studying here. If any student feels that studying three A-levels (or equivalent qualifications) at the same time would be too much work for them, we would encourage them to consider whether an Oxford degree is really the best choice.
We are quite used to seeing students who have, for example, taken A-level Maths in Year 12 and are doing the whole of Further Maths in Year 13. We know that some universities don't let you carry it forward, or alter the standard offer in such circumstances, but as far as we're concerned, if you've achieved the grade you should get the credit. To us it's another concrete indicator of your ability that we can use to assess your capacity to do well on the course. However, please bear in mind that we are, of course, in favour of stretching students, but not at the expense of levels of achievement. We would discourage schools and colleges from entering their students into early exams unless they are very confident that top grades will be met. A grade B in an AS-level taken in Year 11 is still a B in our eyes; it is not equivalent to an A in the same qualification taken in Year 12. If you have taken an unusually high number of A-levels, some of which are notably more relevant to Computer Science than others, it may be that the conditional offer includes additional clauses specifying which of your A-levels can be used towards the A*AA. If you are a mature student, please note that it's essential that you have also undertaken formal academic qualifications within the three years before you apply.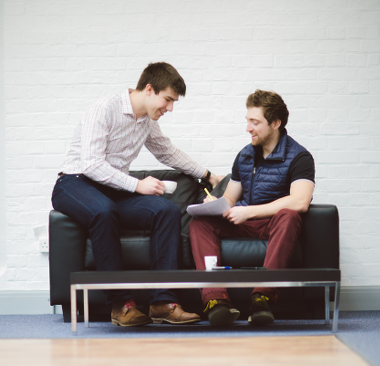 Oxford University does not require its candidates to disclose information on unit grades. However, where applicants, schools or colleges provide AS module results (grades or marks) within the UCAS application materials, this information will be considered by tutors as part of the overall record of the candidate's academic attainment to date. These recorded results may be used by admissions tutors as evidence of a candidate's suitability to study at Oxford, although they will be not used in a mechanistic way to shortlist candidates for interview, or determine which candidates receive an offer. It is therefore in the interests of candidates for schools and colleges to declare AS module marks or grades if they demonstrate a candidate is performing strongly. Where it is the policy of a school or college not to certificate AS module results (or where the school no longer enters candidates for modules in Year 12) this should be stated in the UCAS reference. If there is no statement then it will be assumed that it is the school or college policy to certificate AS qualifications in Year 12.
Of course we would prefer not to see resits, but we do understand even the best candidates can have a bad day. If an applicant has had one bad module result that's caused a dropped grade it's helpful if module grades (UMS) are included in the application. This will allow us to see the level the student has generally been achieving, and put the bad day into context. If there are contextual reasons/extenuating circumstances surrounding a dropped grade(s) please make sure the referee includes these in their reference. It can help us tell which grades are a true reflection of your ability, and how much weight to give to predicted grades where they are at odds with your achieved ones.
GCSEs
We do look at GCSE results when accessing candidates, and we would of course prefer to see a good set of results, especially amongst Maths and Science subjects, but there are no fixed requirements. A good smattering of A*s is helpful evidence in showing your abilities, but it's certainly not the last word. Successful Computer Science applicants average about five/six A*s, but some have fewer: a few even have no A*s (although such candidates will need to persuade us that they're better than their results suggest). We are trying to find out if you're likely to be an excellent Computer Scientist. We really aren't too concerned about how you got on in subjects that aren't relevant to this, such as sport or drama. Factors such as the MAT and the interviews are important parts of the application process. Good performance here can certainly outweigh weaker GCSE scores. If there is contextual information/extenuating circumstances around your lower GCSE scores please do make sure your referee mentions this in the reference. It can help us judge how much weight to give these grades, especially where your grades are notably different to your projected A-level/IB (or equivalent) grades.
STEP Papers and EPQs
We are looking for students with a genuine interest in their chosen subject. Extended Projects (EPQs) don't form part of our standard offers, but we'll certainly notice that you've chosen to explore your interests in an area that's relevant to the degree you're applying for.
STEP papers don't form part of our standard conditional offers either. But we are looking for students who have developed their mathematical thinking. Some of our successful students tell us they found STEP a useful way of doing this.