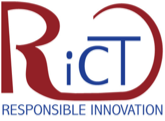 Framework for Responsible Research & Innovation in ICT
Create a Responsible Research and Innovation Observatory for ICT to hold information gathered and disseminate best practice for researchers and practitioners drawing on landscape studies from the ESPRC ICT portfolio.
This project will build a researcher network focused upon ethical issues in Information and Communication Technologies (ICT) through a baseline study to understand and analyse current perceptions of ethics in ICT. This will be done by interviewing a representative cross-section of the ICT community, starting with the participants in the "The Next Decade" event.
Sponsors
Partners
Principal Investigator
People