Four myths about Oxford
Many people are put off applying to Oxford because of their perceptions and misconceptions about Oxford, what it's like to be here, and what the application process is like. Let's consider four of the most prevalent myths: only one of them is true.
First myth: it's hard to get in
Some people are put off applying to Oxford because they think their chances of getting in are almost zero. I can't understand this, because the same reasoning doesn't put people off playing the national lottery. The fact is that of the people who apply in science subjects, between 30 and 50 per cent obtain a place. So if you are as capable as our average applicant (and your teachers will tell you if you are), then your chance of getting in is one in three or better.
Looked at another way, it means that we have to examine only two or three applications for every place. This means that we have the time to consider each application very carefully. About half of those who apply are given an interview, and we take great care that nobody who could benefit from coming to Oxford slips through our net. Of course, you have to do your bit: we cant give you a place if you don't apply. Having said that, I should admit that the admissions process is competitive, and many candidates who are unsuccessful at getting in to Oxford go to other universities and are very successful there.
Logistically, too, it has never been easier to apply to Oxford. We've abolished the entrance exam, so we admit students using conditional offers, just like other universities. There are no lengthy special forms to fill in: we just use the UCAS form like everyone else. The only difference is that every Oxford applicant is treated as an individual.
Some people might be put off applying to Oxford because we ask applicants to come for an interview, whilst some other universities make their decisions purely on the basis of the UCAS form. We use interviews as a way of being as sure as we can that we are fair to everyone who applies, and we do our best to make the experience as pleasant as possible for the candidates. I think you should view the interview as an excellent opportunity to show what you can do. At the end of the process, I hope you will be able to feel proud that you have done yourself justice, and anyway feel that you were given a fair chance of a place. That is what all the tutors involved are aiming for.


Second myth: it's very expensive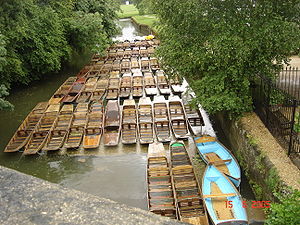 Punts on the Cherwell This one is also false: it is actually cheaper to study at Oxford than at other universities in the South-East. Why? There are three reasons:
First, most colleges provide a room in college for all three years of a typical student's course. These rooms are much cheaper than living out of college, because the colleges subsidise the rents by hosting conferences during the vacations. Conference organisers like to come here and spend money because the colleges are pretty; the profits go to keep room prices down.
Second, Oxford has excellent library facilities. Many colleges will give you on long-term loan a copy of every textbook you need, or give a generous book grant, so that you need spend none of your own money on books for your course. Also, college dining halls (though they vary in the standard of cuisine) provide another useful way of saving money.
Third, Oxford has very generous bursary and scholarship schemes, including: the Oxford Bursaries (for UK and EU students); the Moritz-Heyman Scholarships (for UK students); and many more sources of funding for international students. You can search for financial support and bursaries that you may be eligible for using the university's Fees and Funding Calculator.
A fourth point is that everything in Oxford – colleges, libraries and departments – is located in the centre of town, so students do not face the heavy travel costs that sometimes occur in bigger cities.
Of course, Oxford does have its fair share of over-privileged students – what we might call the 'Brideshead set' – and their antics sometimes reach the national press. But most students aren't like that at all, but come from ordinary backgrounds and are only interested in pursuing their studies and enjoying their spare time without causing annoyance to others!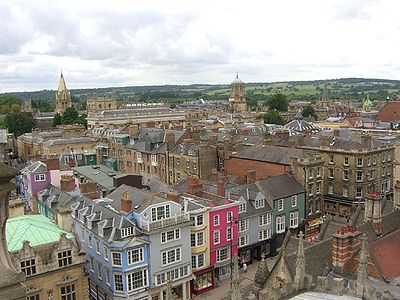 View from St. Mary's church It works like this: you get a copy of the prospectus and start looking at the number of students for Computer Science. You quickly realise that some colleges take as many as 6 students each year, but others take only 2, so you think "I'll apply to a college that takes 6; my chances of getting in are three times greater."
The fact is that the big colleges in Computer Science tend to get more applicants for each place than those that take smaller numbers. Tutors at the popular colleges take the pick of the crop and pass on other applicants to their second and third choice colleges. On the other hand, the colleges that take smaller numbers are often short of good applicants, and will import people who have been rejected by other colleges.
We do co-operate to make sure that every applicant who deserves a place does get one, but your chance of getting in to your college of first choice is actually greater if you choose a small college (that is, one with a low number of students in your subject) than if you choose a college with a large number of students in that subject.
One important thing though: do choose one of the colleges that has a fellow or permanent college lecturer in your subject. Each college lists its fellows and their subjects in the prospectus, and you can find a list of Computer Science tutors elsewhere on this site.


The fourth myth: you have to be bright
This one is true!

We expect our first year students to keep up with the Mathematics students in shared courses, and to do computing as well. It's not easy, and we try to make sure that we admit only people who are equal to the pace. There's no point in coming here and doing badly when you could do much better at another place where the course is less demanding.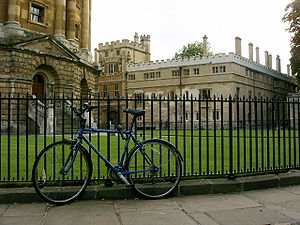 Free parking in Radcliffe Square In practice, this means that we will look at you very carefully during the admissions process, and will not make you an offer unless we are sure that you can achieve top grades at A level. If we do make you an offer, the grades will very likely be A*AA. But if we do make you an offer, your teachers will have told us that these are grades you can expect to achieve.
For Computer Science, many different combinations of A level subjects are good. Maths and Further Maths is always good, but all colleges will accept single Maths. As regards A level Computing, my own preference would be to see Physics instead, because it is a more consistent, established subject that teaches scientific thinking; but other colleagues would disagree with me on that. An important point: if in doubt, get in touch with the college directly. We are always delighted to hear from potential applicants, and the proper thing is to phone the college and ask for the admissions office, or to write to the admissions tutor. The address is easy: Admissions Tutor, XXX College, Oxford will do. Your question will be passed to the tutor concerned.


The truth
To summarize:
Those who apply to Oxford have a good chance of getting in.
Living expenses in Oxford are geared to student budgets.
It's worth considering the smaller colleges.
We really are looking for the most able applicants.