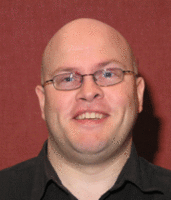 Andrew Simpson
Associate Professor
Themes:
Completed Projects:
Interests
My research to date has been in the following broad areas: formal methods; safety-critical systems; e-research; security and privacy; and security economics.
A list of my publications can be found at https://scholar.google.com/citations?user=rrydyHwAAAAJ&hl=en.
Former DPhil students include:
Douglas Creager: A graph-based approach to the automated discovery of data transformation (2007)
Mila Katzarova: Secure delegation in a distributed healthcare context (2009)
Sarah Induruwa-Fernando: Achieving interoperability between workflow management systems (2009)
Nicolas Wu: Generative templates for formal metamodel design (2010)
Mark Slaymaker: The formalisation and transformation of access control policies (2011)
Clint Sieunarine: Evolving access control: Formal models and analysis (2012)
Jaco Jacobs: A formal refinement framework for the Systems Modeling Language (2015)
Chad Heitzenrater: Software security investment modelling for decision-support (2018)
Yang Liu: Privacy-preserving targeted advertising for mobile devices (2018)
Emma Osborn: Small-scale cyber security (2018)
Majed Alshammari: A principled approach for engineering privacy by design (2019)
Daniel Woods: The economics of cyber risk transfer (2019)
Robin Ankele: Addressing syntactic privacy for privacy-preserving data analysis and data release (2020)
Adam Zibak: A success model for cyber threat intelligence platforms (2020)
Dennis Malliouris: Finance and cyber security: uncovering underlying and consequential costs of security breaches and investments (2021)
Aaron Ceross: Computational approaches to data protection regulation analysis (2023)
Mark Quinlan: Learning informally: An exploration of cyberspace and its associated security advice (2023)
Tom Walshe: Supporting data-driven software development life-cycles with bug bounty programmes (2023)
Former research assistants include:
Carl Christensen
Ghita Kouadri Mostefaoui
Xiaoqi Ma
Lee Momtahan
Eugenia Politou
David Power
Douglas Russell
Clint Sieunarine
Mark Slaymaker
Graeme Wilson
Biography
I have been an Associate Professor (formerly "University Lecturer") in Software Engineering since January 2002.
Selected Publications
Projects
Completed Projects
Current Students
Past Students