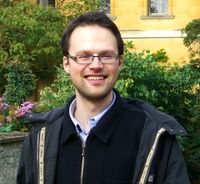 Dr Björn Wachter
Research Assistant
Leaving date: 21st September 2015
Themes:
Completed Projects:
See Also:
Interests
My research focuses on the formal verification and quantitative analysis of computing systems.
You may also be interested in my Google Scholar Profile and DBLP entry.
Biography
Björn Wachter is currently a postdoctoral research assisant at the Computer Science Department of the University of Oxford. He received a PhD in computer science from Saarland University in 2010.
Selected Publications
Activities
Completed Projects