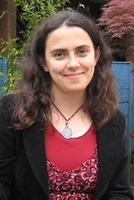 Hristina Palikareva
Doctoral Student
Leaving date: 14th January 2013
Themes:
Completed Projects:
Interests
formal software verification
model checking
concurrency
SAT
CEGAR
partial-order reductions
static analysis
Biography
I am currently a fourth-year DPhil student at the Department of Computer Science, University of Oxford. I am working on the project "CSP Model Checking: New Technology and Techniques" under the supervision of Prof. Bill Roscoe and Dr. Joel Ouaknine. I obtained a B.Sc. (October 2002) and an M.Sc. (June 2006) in Computer Science at the Faculty of Mathematics and Informatics,  Sofia University "St. Kliment Ohridski". I completed the M.Sc. programme Logic and Algorithms at the Department of Mathematical Logic and Applications. Between 2001 and 2007, I also worked as a software engineer at MPS Ltd., Sofia, Bulgaria.
Teaching
Selected Publications
Activities
Supervisor