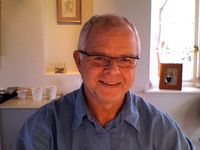 Dr Ib Holm Sørensen Cand.Scient MA DPhil
Information Systems Developer
Leaving date: 10th May 2012
Interests
Software Engineering for Safety- and Mission Critical Systems

Mathematical based methods for system specification, design and implementation


Z ( 1979-1986)

Zermola based Set Theoretical Notation for the specification, the designing and the analysis of software system.


B ( 1986-1999)

Bourbaki based approach for the computer aided checking of correctness and consistency of software specified in a set theoretical notation.

BOOSTER ( 1999 - present )

The B approach for the use of

Object Orientation for specifying information by classifying it as objects according to common attributes, and a

Set Theory based pre-post condition approach for specifying methods for changing the value of the attributes and the relationship between objects, and
Entity Relationship for specifying the relationship between the classes of objects, and the

The automatic generation of data repositories and secure web-interfaces for viewing and changing the data.


Requirement specification and analysis , software design verification and code derivation

Automatic Generation and Evolution of web-based information systems ( e.g the services of this web-site ) from Booster models of requirements.

Selected Publications
Activities
Projects