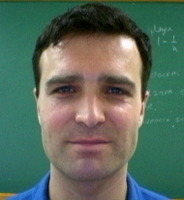 Dr Raphael Andreas Hauser
Former Member
Interests
Conic and robust optimization, probabilistic analysis of algorithms, optimization models in finance.
Biography
Education:
Dipl. Math., Swiss Federal Institute of Technology, Zurich. Supervisor Corneliu Constantinescu.
PhD in Operations Research, Cornell University, Ithaca, Jan 2000. Supervisor Mike Todd.
Students:
Jelena Nedic, DPhil in Numerical Analysis, Oxford Univesity 2004.
Daniel Goodman (co-supervision), DPhil in Software Engineering, Oxford Univesity 2007.
Nachiketa Gupta, DPhil in Numerical Analysis, Oxford University 2008.
Denis Zuev, DPhil in Applied Mathematics, Oxford University, 2009.
Sergey Shahverdyan (starting 2009).
Selected Publications
Activities
Completed Projects