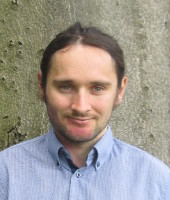 Dr Vojtěch Forejt
Associate Professor
E-mail: vojfor@cs.ox.ac.uk
XMPP (Jabber): forejtv@gmail.com
Skype: forejtv
Room 477, Wolfson Building, Parks Road, Oxford OX1 3QD
Interests
I mainly pursue research in probabilistic verification. More broadly, I study systems that have some stochastic behaviour and/or involve decision making. I develop methods for formally proving properties of such systems, measuring their performance, or assessing their reliability. The systems I study are usually described as Markov chains, Markov decision processes, or their extensions.
Biography
I am an Associate Professor in Computer Science (Software Engineering). I am also affiliated with Institute for Theoretical Computer Science at my alma mater.
I hold a PhD in computer science from Masaryk University in Brno, and a LLB (Hons) in English law from Open University.
Publications
See here.
Current Teaching
Prospective students and postdocs
I do not currently have any funding available for postdocs or PhD students, but I am happy to assist excellent applicants in applying for external funding. Please send me your full CV with a short outline of a proposed project.
Other
I am interested in consultancies and in acting as an expert witness within my area of expertise. Please contact me with your queries.
Activities