Hip surgery guide
With an ageing population, arthritis is an urgent research topic. The department's Medical Imaging Group led by Irina Voiculescu has been developing software to improve support for early diagnosis and intervention, and to print 3D models to guide surgeons when preparing for hip replacement surgery. An early diagnosis helps clinicians reduce the duration of pain suffered by patients as hip osteoarthritis progresses.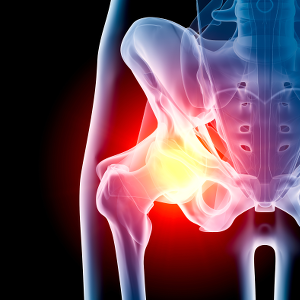 Although surgeons now routinely have access to wonderfully detailed MRI scans, a surprising amount of measurement still has to be made manually to identify and pinpoint the early stages of arthritis. That requires months of training on the job and it is so time-consuming that manual measurements are rarely used in clinic, surgeons relying instead on training and experience. This process could, however, be sped up by the OxMedIS (Oxford Medical Image Segmentation) software developed by Irina's group. The software provides accurate semi-automated measures which allow clinicians to make precise treatment plans for patients.
OxMedIS automates the process of selection and analysis of anatomical features, which allows for greater precision. Crucially, it takes new measurements which are not currently available in clinic. This gives a fuller picture of the state of anatomical features around the joint. The highly developed system converts scan data internally into a complex hierarchical data structure, which gets displayed to the user in an intuitive way allowing clinicians easily to select bones or other tissue.
Reinforcement learning techniques are used to identify the femur bone in the scan, and then this information is extrapolated to infer the presence of hip cartilage damage. OxMedIS then delivers detailed information on the extent of both the damage and its location within the joint. Even when damage is not yet visible, by reading the biochemical signals of the cartilage, the software can predict where in the hip joint arthritis may develop next, potentially allowing surgeons to bring forward the date of a hip replacement operation.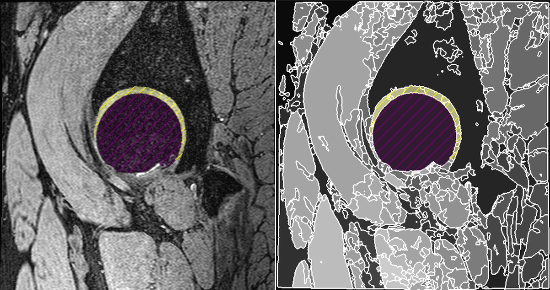 [Above]: Section through MRI hip joint scan with femur and cartilage labelled using OxMedIS
These features help clinicians make evidence-based decisions and develop patient-specific treatment plans, including the kind of surgical intervention to use, and when best to operate. The decision to operate early sometimes removes the need to repeat costly scans and diagnosis as arthritis progresses. It also eradicates the need for long-term physiotherapy and medication, resulting in significant financial savings to the NHS. In real world terms, this also means that many patients are in pain for less time and lose fewer work days.
Irina's group developed the clinical features of the software in collaboration with Professor Siôn Glyn-Jones, who is a consultant orthopaedic surgeon at the Nuffield Orthopaedic Centre and conducts research for the Nuffield Department of Orthopaedics, Rheumatology and Musculoskeletal Sciences (NDORMS). Together they used data from previously treated patient cohorts to demonstrate the capabilities of OxMedIS as a clinical tool.
Until now, the work has been funded by a John Fell Award and by the Department Impact Fund. A recent MPLS Impact Acceleration Award will help to further automate the software to classify patients into different risk groups.
Irina says: 'No other automated product is currently available for this type of analysis. We believe this software will make a huge difference to the lives of arthritic hip patients, and the way they are managed.'
The OxMedIS project website is at: http://www.oxmedis.com
This article first appeared in the summer 2018 issue of Inspired Research.