Inventing the Future: CAS University of Oxford School Conference
Tuesday, December 4th, 2012 from 9:15am to 4:30pm
Sorry, this event is now fully-booked.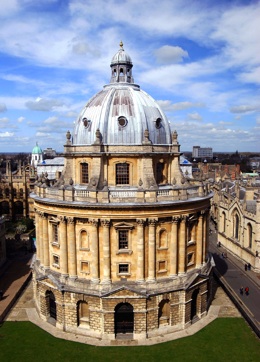 Oxford University and the Computing at Schools group are joining forces to offer a one-day taster session giving an insight into the fascinating innovations in Computer Science. The day is aimed at Year 12 and keen Year 11 Maths and Computing and ICT students and their teachers
University of Oxford's Department of Computer Science and Computing At School (CAS) bring you an exciting day, which showcases future and emerging computing technology. Activities will include:
Introduction to Computer Science — an Oxford University Professor explodes some myths
Practical sessions — try our hands on activities
Attend taster lectures: sessions will include "The Magic of Computer Science", "How to Solve Sudoku by Computer", "Computational Medicine" and "Can Machines Think?"
Visit an Oxford College
The day will combine lectures, demonstrations and a practical hands-on session. Speakers will include University lecturers from Oxford and beyond, and researchers in Computer Science, plus guest speakers currently working in the IT industry.
Audience
This event is open to Year 12 and keen Year 11 students from UK schools and colleges and their teachers. Students should have a proven flair for Maths, Science or Computer Science. Max. 10 students per school; there is no minimum.
When and where
Department of Computer Science, Wolfson Building, Parks Road, Oxford, OX1 3QD, Tuesday, December 4, 2012 from 9:15am to 4:30pm. Booking essential.
FAQs
How much does the taster day cost?
This event is free. Attendees should bring their own packed lunches. There is no canteen available on site. Attendees will also need to organize their own transport to Oxford. (See below).
How do I book?
Sorry, this event is now fully booked. To be added to the waiting list contact: opendays@cs.ox.ac.uk
Places are still available for school teams at the
Oxford RobotGames
during the same week.
Do attendees need to have studied computer science or ICT to attend?
No, we don't expect any previous knowledge. The way Computer Science is taught at university level, and used in industry, is very different to the ICT taught in schools — this will be reflected in the taster day. All we ask for is enthusiasm to learn and an interest in either Maths, the Sciences or Computer Science.
How many staff members should attend?
Ideally one staff member or parent per group of 10. They need to remain responsible for the group during the day. Schools will also need to fulfill their own policies about trips. Max. 10 students per school; there is no minimum.
My school isn't sending a group, can I book to come on my own?
The day is open to pupils of UK schools. If you're over 16 and your school and parent/guardian are happy for you to attend then you're welcome to come on your own (or bring a parent) but you need to ask your school to book a place for you - see above.
Will there be a separate programme for parents/teachers? I'm just dropping my son/daughter/pupil off, do I need to book a parent/teacher place?
If you book a parent/teacher place you will take part in the same programme of activities as the students. Students under 16 do need to be accompanied by a teacher/parent. However, if your student is over 16 and you as a parent/teacher don't intend to spend the day with us there is no need to book a parent/teacher place. Parents are more than welcome to attend, but please be aware that we are limited by the total number of seats in our lecture theatre, so if you don't intend to sit in on the sessions there's no need to reserve a seat/place at the event. If you are booking pupil places, but don't book a parent/teacher one you're still welcome to pop in and say "hello" and even have a coffee with us.
How do I get to the venue?
The Department of Computer Science is on the corner of Keble Road and Parks Road in the St Giles area of Oxford — maps and directions can be found here. Please use the No. 7 Keble Road entrance. We strongly recommended that you use public transport, if at all possible. If you do travel by car or minibus, please note that parking in the city centre is very limited. There are several Park & Ride bus services which run from car parks on the outskirts of Oxford. If you are brining a minibus please note the Council's pages on access for High Sided Vehicles at Park and Rides.
One of my students particularly wants to apply to Oxford. Should I bring them along?
Yes, they'd be more than welcome. As are your talented students who are less sure of what they want to do. However, please be aware that the day doesn't include sessions on the admissions process, the courses we offer etc, although written information will be available. To find out more about studying at Oxford students should come along to one of our "open days."
Is accommodation available?
Unfortunately we are not able to provide accommodation. If you cannot get to Oxford in one day you may like to consult Oxford Rooms or book accommodation at one of the city's Youth Hostels.
Who are the organisers?
The "Computing At School" group (CAS) is a membership association run by BCS, The Chartered Institute for IT. It was created to support and promote the teaching of computer science and other computing disciplines in UK schools. The Department of Computer Science at Oxford University is home to a range of graduate and undergraduate degree courses, and internationally significant programmes of computer science research.
I've got a question — who do I talk to?
Please contact: opendays@cs.ox.ac.uk
Please note the organisers reserve the right to change the programme without notification or to make alterations to the advertised details for the day at short notice.