Student and Research Staff Conference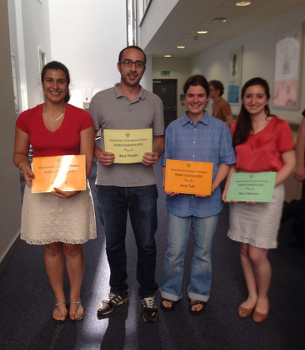 Conference Prize Winners (2014)
The Oxford University Department of Computer Science Student and Research Staff Conference 2015 will take place on Friday, 12th June, 2015 (7th week of Trinity Term) in the Wolfson Building on Parks Road, in Lecture Theatres A and B.
We are delighted to announce that Professor Stephen Pulman will be this year's keynote speaker.
Established in 2004, the Conference was originally held biennially and has since become an annual event. In 2015, we are excited to announce that for the first time this will be a joint conference with the Research Staff.
All students, faculty and staff members of the department are welcome to attend the conference for which there is no registration fee. Tea, coffee and lunch will be provided free of charge.
The deadline for submission of micro abstracts is Friday 24th April and extended abstracts Friday 8th May. Registration for attendance at the conference and/or dinner closes on 15th May 2015.
---
Programme Committee
William Smith
Ashutosh Natraj
With admin support from Julie Sheppard, Sarah Retz and Lyn Hambridge.