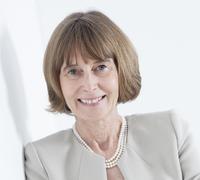 Professor Marta Zofia Kwiatkowska
Professor of Computing Systems
E: Marta.Kwiatkowska@cs.ox.ac.uk
Themes:
Completed Projects:
Interests
My research is concerned with modelling and analysis methods for complex systems, such as those arising in computer networks, electronic devices and biological organisms. The analysis methods that I investigate include simulation and formal verification, with particular emphasis on quantitative verification of probabilistic systems. My work spans the whole spectrum, from theory, through algorithms to software implementation and applications. [more details...]
Biography
Marta Kwiatkowska is Professor of Computing Systems and Fellow of Trinity College, University of Oxford. Prior to this she was Professor in the School of Computer Science at the University of Birmingham, Lecturer at the University of Leicester and Assistant Professor at the Jagiellonian University in Cracow, Poland. She holds a BSc/MSc in Computer Science from the Jagiellonian University, MA from Oxford and a PhD from the University of Leicester. [more details...]
Doctoral study in computer science
I welcome applications for doctoral study and postdoctoral visitors in areas relevant to my research interests. Possible research topics are described here, but I am happy also to consider students' own proposals. If you are interested in a D.Phil. position (this is what PhD is called at Oxford) please email me. [more details...]

Publications
See here for an online list of publications.
Links
Activities
Projects
Completed Projects
Current Students
Research
Past Students
Past Researchers