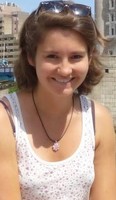 Aurore Lyon
Doctoral Student
Leaving date: 30th April 2018
Interests
I am interested in using machine learning and signal processing techniques to extract and process features from cardiovascular data in order to find relevant biomarkers.
One of my interests is to develop automated tools able to extract features from clinical ECGs for risk stratification in patients affected by hypertrophic cardiomyopathy (HCM), in order to improve the classification between HCM and control patients, and the understanding of the HCM disease.


Biography
After a Master in Engineering in Telecom ParisTech (French "Grande Ecole") cursus Eurecom, I joined the Computer Science Department (Oxford) for the MSc in Computer Science.
There, I followed, among others, machine learning courses that raised my interest for this field and its applications to the biological and medical challenges.
I worked with the Computational Cardiovascular Science team for my MSc project and I joined the group as a doctoral student after graduating from my MSc with distinction.
Selected Publications
Supervisors