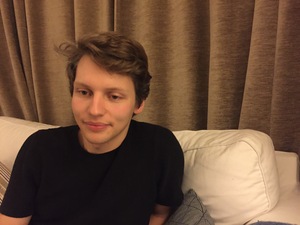 Mr Dominic Verdon
Doctoral Student
E: dominic.verdon@cs.ox.ac.uk
Wolfson Building, Parks Road, Oxford OX1 3QD
Interests
Topological quantum field theory, quantum information, categorical quantum mechanics, tensor categories, etc.


Jamie Vicary and I recently used categorical methods to develop the first zero-overhead procedure for reference frame-independent quantum teleportation. This will be published in the proceedings of QPL 2016. http://arxiv.org/pdf/1603.08866.pdf
Biography
Studied mathematical sciences (MMath) at Durham University.
DPhil student at Oxford University since October 2014.
Activities
Supervisor