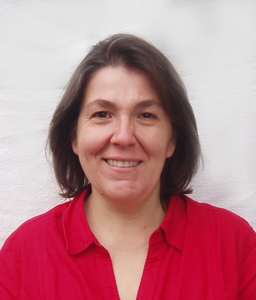 Dr Irina Voiculescu
Associate Professor
Interests
I teach the Geometric Modelling course where we build interesting 3D models.
I work in the general area of 3D geometric modelling, with a particular focus on the analysis of images sourced from medical scanners, across multiple modalities.
My group's OxMedIS software for Medical Image Segmentation is capable of processing MRI, CT, microCT, ultrasound and other medical and biological data. We have developed algorithms to partition each 3D image into regions with similar properties. These images are then analysed further so that particular features (such as bones, organs or blood vessels) can be identified within them and segmented out. Once labelled, the features can be reconstructed as 3D shapes and displayed or 3D printed on our Makerbot 2X. We specialise in automating some of the steps of the segmentation, whilst providing the clinicians with a manual override on the final results. Some of our algorithms work inparallel and have been implemented on a GPU.
The segmentation methods have been validated against hand-drawn ground truth contours, using a suite of conventional evaluation metrics. In addition we have also designed our own evaluation metrics which we have proved to rank segmentation results effectively.
Our most recent experiments have successfully used machine learning tehniques (specifically reinforcement learning) in order to segment features out of a pre-partitioned image. We thus reduce the need for vast amounts oftime consuming hand-drawn training contours.
Collaborators
All our research is carried out in very close collaboration with clinicians in a variety of fields, both in academia and in hospitals.
Prof Sion Glyn-Jones, FRCS DPhil, Consultant Orthopaedic Surgeon, Oxford
Dr Antony Palmer, MA BMBCh DPhil FRCS, NIHR Academic Clinical Lecturer, Oxford
Dr Elise Pegg, Department of Mechanical Engineering, University of Bath
Prof Hemant Pandit, FRCS DPhil, Orthopaedic Surgeon, Senior Clinical Lecturer, Chapel Allerton Hospital Leeds
Prof David Murray, MA MD FRCS, Consultant Orthopaedic Surgeon, Oxford
Dr Thomas Hamilton, MBChB, BSc (Hons), MSc, MRCS, Orthopaedic Registrar, Oxford
Prof Dominic Furniss, FRCS DM, Plastic Surgeon, Oxford
Prof Glyn Humphreys, Watts Professor of Experimental Psychology, Oxford
Prof Nele Demeyere, Experimental Psychology, Oxford
Dr Zoe Traill, MBBS, MA, MRCP, FRCR, Radiology consultant
Prof David Cranston, MB ChB DPhil FRCS, Consultant Urological Surgeon
Dr Andrew Protheroe, MBBS, FRCP, PhD, Renal oncologist
Mr Mark Sullivan, MB BS, MD, FRCS, Clinical Directorate Lead, Urology
Alumni
2013-2018 Varduhi Yeghiazaryan, DPhil, Parallel Front Propagation in Medical Image Segmentation
2006-2011 Stuart Golodetz, DPhil, Zipping and unzipping: the use of image partition forests in the analysis of abdominal CT scans
2005-2010 Gwyn Skone, DPhil, Stratagems for effective function evaluation in computational chemistry
2002-2012 Jian Chen, DPhil in collaboration with the Department of Structural Biology, Improving icosahedral virus reconstruction from cryo--electron micrographs
2017 Avraham Sherman, MSc, June Bug: Building and Analyzing Physical 3D Models from Medical Scans
2017 Jahangid Iqbal, MSc, Hand Gesture Recognition via LeapMotion Sensor
2017 Edoardo Pirovano, MCompSci, "Applications of Reinforcement Learning to MedicalImage Segmentation"
2017 John Burden, MCompSci, "Image Filtering For Medical Imaging"
2017 Dan-Andrei Gheorghe, MCompSci, "Exact Algorithm for Complex Root Clustering", Microsoft Prize for best Computer Science project in Part C
2016 Christine Lind, MSc, Wearable sensors for post--op joint rehabilitation
2016 Samuel Littley, MCompSci, Improving 3D printing from medical data
2016 Tom McDonald, MCompSci, Knee joint visualisation and measurements of osteoarthritis
2016 Josiah Kane, MCompSci, Improving physiotherapy uptake through using a hand sensor
2016 Stephen Heap, MCompSci, Machine learning techniques for gesture classification using the Leap Motion sensor
2016 Benjamin Dawes, MCompSci, Reinforcement learning techniques for games
2015 Cihan Chen, MSc, Element--wise Analysis of Free--hand Line Drawings for Psychological Diagnosis
2015 Ioannis Zifos, MSc, Gesture Recognition using Leap Motion
2015 Xueying Jessica Liu, MSc, A System for Hand Physiotherapy Using Leap Motion
2015 Thomas Lear, MCompSci, Static Target Finding with the Parrot ARDrone 2.0
2014 Emil Culic, MCompSci, Objective Hand Gesture Scoring for Apraxia Patients using Leap Motion
2014 Pernille Hanehoj, MCompSci, Assessment of Simple Geometric Drawings on a Tablet
2013 Piotr Kozlowski, MCompSci, Measuring Gesture Mimicking Accuracy with Microsoft Kinect
2013 Kamil Chmurzynski, MCompSci, Assessment of Static Hand Gestures
2013 Varduhi Yeghiazaryan, MSc, Feature Identification on CT Images Using the Fast Marching Method'' Richard Bird Prize "for the dissertation that best presents a piece of software, an algorithm, or a mathematical theory pertaining to program construction"
2013 Shaun Rudge, MSc, Virtual Milling Machine
2012 Jan Paul Posma, MSc, jsdares: a New Approach to Learning Programming
2010 Narayan Kamath, MSc, Subdivision Algorithms for Complex Root Isolation: Empirical Comparisons, Hoare prize for best overall MSc in CS performance
2010 Stuart Bowyer, MSc, Segmentation and Classification of Magnetic Resonance Images, project continued by the student in a doctoral programme at Imperial College London
2009 Chris Arthurs, DTC, Generating Non--Self--Intersecting Molecular Conformations
2009 Xingyan Jin, MSc, Map Reconstruction Based On Hand-drawn Images
2009 Ruijian Zhang, MSc, Segmentation of Medical Images
2009 David Batey, MSc, Generating Computer Animations Based on Real World Objects Using Stereopsis
2008 Qingnan Zhang, MSc, A Point Pattern Matching Algorithm for the Registration of Medical Images
2007 Ruo Yin, MSc, 3D Reconstruction of Fossils From Registered Binary Images
2005 Luis Agudelo, MSc, A Byzantine Music Editor and Translator
2005 Celia Cheung, MSc, 3D Fossil Reconstruction using Splines
2003 Patichan Kamolvisit, MSc, Simplified Byzantine Music Editor
2003 Alistair Thorpe, MSc, Surface Detection in Colour Image Processing
2002 Eran Socher, MSc, A Three-dimensional Chat Room System
Vacancies
I am always looking for motivated DPhil/PhD or Masters students to join my group. For entry in October 2021 candidates may apply for the Oriel College Doctoral Scholarship in Artificial Intelligence. Please get in touch if you have an interest in
Image Analysis
Segmentation
Registration
Validation
GPU programming
Machine Learning (specifically Reinforcement Learning)
Global Health Challenges
Here is a 3D reconstruction of an abdominal CT scan. It features the rib cage, liver, kidneys, spleen, blood vessels and a renal tumour.


Other interests
My other interests include
3D printing
Mathematics of curves and surfaces
Finding roots of polynomials
Constructive Solid Geometry (CSG)
Molecular modelling
Biography
I have been a Lecturer in the Department of Computer Science at Oxford since 1999. I obtained my PhD at the University of Bath, for research in Constructive Solid Geometry (CSG). I contributed to the development of the geometric modelling software svLis through the application of polynomial root finding methods.
As part of the Spatial Reasoning research group at Oxford I have been conducting research in the areas of molecular modelling (protein docking), medical imaging (CT and MRI scan analysis) and polynomial root finding (interval arithmetic). I am interested in other aspects of geometric modelling such as as applications of multivariate polynomial forms in geometry, Bernstein-form polynomials and generalized Newton-like methods.
I am actively involved in public engagement activities, such as the Oxford RobotGames, a programme where children of high school age design and build their own robot in half a day. Another on-going project of the Spatial Reasoning group has been to build a robot sheepdog which automatically herds either live or robotic animals. The Oxford robotic flock was shown in 2001 at the Royal Society Summer Science Exhibition.
I am Fellow of the UK Geometric Modelling Society and Associate Editor of the SPIE Journal of Medical Imaging.
Selected Publications
Activities
Projects
Current Students
Past Students
Past Researchers