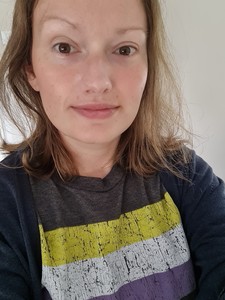 Jordan Summers
Research Facilitator
E: jordan.summers@cs.ox.ac.uk
Room 244, Wolfson Building, Parks Road, Oxford OX1 3QD
United Kingdom
Biography
I've been a Research Facilitator and secretary to the Departmental Research Ethics Committee since April 2023. Previous roles in the department spanning the previous decade have included Project Officer and PA, most recently in the Systems Security Lab.
I'm a Mental Health First Aider, a Harassment Adviser, and am involved in the division's LGBTQ+ staff community as well as actively championing the perspectives of fellow neurodivergent people wherever I can (if you want to join our Teams community run BY and FOR neurodivergent staff, go here.) In my spare time I've done some music journalism, (bad) music-making, and freelance proofreading/editing. I like stationery, Star Trek, and a nice cardigan.
Prior to working at Oxford, I held positions at Oxfam GB, Canterbury City Council, the Scottish Government, and the University of Glasgow.
Please feel free to contact me about anything ethics-related, or if you just want a coffee and a chat. Currently I'm in the office Mon-Weds, and I work from home Thurs-Fri.
My pronouns are they/she.