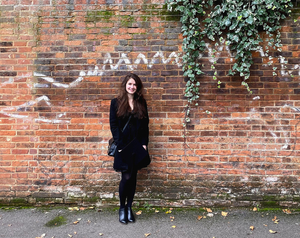 Interests
Fields: Behavioural design, philosophy of language and cognition, Human-Computer Interaction (HCI), Human-Robot Interaction (HRI), cognitive science, social psychology, technological governance, cognitive linguistics, computational linguistics; Natural Language Processing/Understanding (NLP/NLU), analytic philosophy, social anthropology, technoethics
Topics: Ethics of interactions, Computers Are Social Actors (CASA), LLM alignment and evaluation, nudging and dark patterns, affective computing, respectful treatment, user autonomy, self-determination theory, design for wellbeing, social engineering, Conversational Agent (CA) design and evaluation, Responsible Innovation (RI)
Biography
Lize is a doctoral candidate in the Human Centred Computing group, co-supervised by Dr. Max van Kleek and Prof. Marina Jirotka. Her work is funded by a graduate scholarship from the Responsible Technology Institute.
Lize's research centres on proposing an ethics of interactions, with a primary focus on systems that behave as social actors (i.e., any system that "talks" to/at users). Her work involves exploring, with end-users, what it means for algorithmic systems to treat users respectfully, and the sorts of harms and expectation violations that may arise in human-computer social interaction. This includes exploring how to support users' sense of autonomy and self-worth, as well as identifying dark patterns in the ways that interfaces use social/anthropomorphic cues to steer user behaviour.
Lize has a master's by thesis degree in Philosophy from Stellenbosch University, focusing on embodied cognition and computational linguistics. Her master's thesis combines a theoretical review of work in cognitive science and philosophy of mind/language with a review of technical approaches in natural language processing (NLP), to distinguish different senses of language 'understanding'. She also holds a BA Honours degree in Philosophy from Stellenbosch University, and her dissertation on computational linguistics was published in a peer-reviewed journal. Preceding that, she graduated top of her class with a BA in Humanities, obtaining double the required credits with four majors (Philosophy, English, Social Anthropology, History of Art) at North-West University, Pochefstroom.
Lize is a Research Fellow at the Unit for the Ethics of Technology in the Centre of Applied Ethics at Stellenbosch University. She is also a founding member of the Responsible Technology Institute's Student Network, and is currently working as a student researcher at Google in London as a part of the Cerebra team.
Selected Publications
Activities
Supervisors