Building a better IT future
In a world where technological advances can create undesirable futures, there is an ever stronger need for more research into the ethical and societal consequences of technology. Responsible research and innovation is a way of achieving more desirable futures, as outlined below by Margherita Nulli, ORBIT Project Officer.
Once a technological product is manufactured and out in the wild, it may often be used in ways that were not originally anticipated by the designers. For example, affective devices - robots that can interpret signals to infer a human's mood and respond accordingly – are mainly developed with beneficial purposes in mind, such as helping people to fight loneliness. Even though the original intention is good, what happens to all the data about its owner that the robot stores? Who has access to it and how can it be used? What would happen if people start treating the robot as a real human being?
If we want to build a better IT future we need to ask ourselves a key question: how can we maximise the benefits of a technology while minimising its risks? One of the most prominent approaches to addressing this question is responsible research and innovation (RRI).
RRI is a process that aims to ensure that the outcomes and processes of research are socially desirable, acceptable and sustainable. This highlights important questions such as: what are the benefits of the research? What are the risks? What are the alternatives and who is responsible for the outcomes of the research? RRI states that researchers should take a long-term perspective and consider what will happen to their products once they leave the laboratories. RRI can help researchers to obtain better outputs and minimise the side effects of their research by helping them anticipate the effect of their products, reflect on the purposes of the research, engage with stakeholders and act to influence the direction of their research. These aspects form the AREA 4P framework, which is the core of RRI in the UK. The framework consists of a set of questions that help the researcher to consider all aspects of their research and to evaluate if it is being done responsibly.
It has to be emphasised that RRI is not a silver bullet. RRI cannot help us predict the future or avoid all side effects arising from a technology. It can however help us to reflect on the strengths and weaknesses of a project (or a tool) and stimulate a better informed conversation about possible solutions.
RRI is a concept embraced by a range of research funders including the EU and EPSRC. ORBIT was recently created with the support of the UK's biggest funder of ICT research, the EPSRC. ORBIT aims to help put RRI into practice by offering services that can integrate all of its aspects.
The Observatory for Responsible Research and Innovation in ICT (ORBIT) Project, launch event at the Palace of Westminster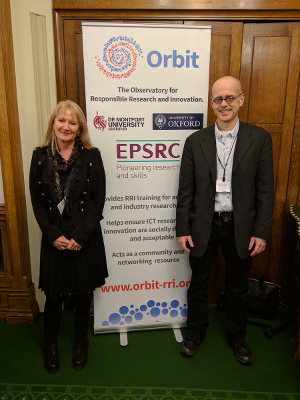 ORBIT, a joint venture between Oxford and De Montfort Universities, was launched at the House of Lords on 30 January 2018. ORBIT is led by Professors Marina Jirotka of Oxford University and Bernd Stahl of De Montfort [pictured left], with Martin de Heaver as Managing Director, Margherita Nulli as Project Manager and Carolyn Ten Holter as Marketing Officer.
In the case of an affective device, ORBIT could, for example, help to identify resources, provide case studies, technology descriptions and other documents to learn from good practice. A self-assessment tool developed by ORBIT can help identify the strengths and weaknesses of a piece of work and guide researchers in their RRI activities. For example how do you decide whether an object could or should have a female or male voice? How can you envisage the consequences of a broad adoption of affective robots in homecare settings? ORBIT can help researchers find ways to answer such questions and gain competences through training and proposal development.
Key to the success of ORBIT will be the development of a community of interested scholars which will be supported by the newly launched ORBIT journal, a platinum open access venue for dissemination and discussion of the role of ICT in modern societies.
Orbit website: www.orbit-rri.org
This article first appeared in the summer 2018 issue of Inspired Research.