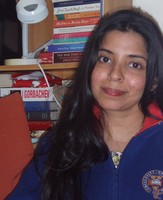 Aadya Shukla
Doctoral Student
Themes:
Completed Projects:
Biography
Aadya Shukla is part of the Software Engineering Group at the Department of Computer Science, University of Oxford. She works with Professor Jim Davies, Dr Alessandra Cavarra and the Cancer Grid Team. Her current research focuses on Information Modelling in Complex Knowledge Domains (Clinical Informatics and Electronic Governance).

She gained her first degree in Mathematics and Statistics in India, and Masters in Artificial Intelligence from University of Edinburgh. Prior to starting her DPhil, Aadya has gained a wealth of work-experience (2000-2006) in interdisciplinary research, particularly Bioinformatics. Her previous research included Expert System Design, Ontology Development, Large Scale Data Integration and Machine Learning. She has worked for Siemens Limited (Dresden); the European Molecular Biology Laboratory (Cambridge) and the Medical Research Council (Harwell, Oxford). Currently, a Microsoft Research Doctoral Scholar at Oxford, she was selected as the first Shell Centenary Scholar from India for her studies in Edinburgh. She is a Graduate Fellow of St. Catherine's College, Oxford (Great Eastern Fellowship Award, 2006/2009).
She enjoys exploring aerial views of Oxford as a member of the Gliding Club, debating at the Oxford Union and organising events for the Oxford Indian Society (President). She is also a keen reader (Science Fiction, Biographies & Information Security) and enthusiastic handmade paper maker.
Aadya is currently based at Harvard Kennedy School of Government as the Science, Technology and Public Policy (STTP) Fellow. Her ongoing projects at Harvard include Trusted Systems and Cybersecurity. She is also involved in undergraduate teaching at School of Engineering and Applied Sciences at Harvard.

See also
Selected Publications
Activities
Supervisors