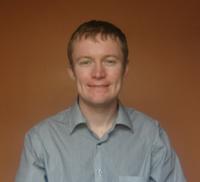 Dr Conor Muldoon B. Sc. (Hons), Ph.D.
IRCSET Marie Curie Research Fellow
Themes:
Completed Projects:
Biography
I joined Dr. Niki Trigoni's Sensor Network group in December 2009 as an INSPIRE IRCSET Marie Curie Research Fellow. Prior to coming to Oxford, I was a Government of Ireland Embark Fellow in University College Dublin from 2007. I also did my Ph.D. (Computer Science) in University College Dublin. I obtained a first class B.Sc. (Honours) degree in Computer and Software Engineering from Athlone Institute of Technology in 2002. I have over 40 publications and won the Cooperative Information Agents System Innovation Award in Helsinki, Finland in 2003. I am a member of the Marie Curie Fellows Association and my research interests include Wireless Sensor Networks, Distributed Constraint Optimisation, Machine Learning, and Multi-Agent Systems. I am currently collaborating on the FedeRatEd Secure sensor NEtwork Laboratory (FRESNEL) Project.
See also
Selected Publications
Activities
Supervisor