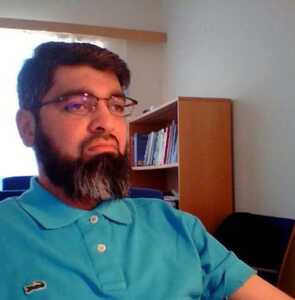 Dr Imran Mahmood Q. Hashmi
Postdoctoral Research Fellow
Senior Research Fellow
Interests
My research interests revolve around cutting-edge research in Artificial Intelligence (AI) and Machine Learning (ML). With expertise in AI and ML techniques, I specialize in PyTorch, Graph Neural Networks, and Multi-Agent Reinforcement Learning (MARL). Additionally, I have a strong background in Modern Software Engineering, Modeling & Simulation, Agent-based Simulations, Digital Twin Technologies, Geospatial Data Science, Geospatial Visual Analytics, and the analysis and formal verification of complex systems. In the domain of agent-based modelling, I have excelled in developing efficient modelling languages, generating realistic synthetic populations, and calibrating large-scale models. My expertise and diverse experience position me to contribute to complex research problems and drive innovation across various domains.
At the Department of Computer Science, University of Oxford I am a member of the Allan Turing-funded project: The LARGE AGENT COLLIDER: Robust agent-based modelling at scale, where I contribute in the following sub-areas:
Modelling languages and transformations for agent-based models; Probabilistic Programming in AI
Synthetic Environments; Synthetic populations; Synthetic agent behaviours
Calibrating large-scale agent-based models
Validation and verification of agent-based models
Methods and Techniques:

Data science, Data analytics, Computational modelling, Differentiable programming, Pytorch, Graph Neural Networks, CUDA, MARL
High-Performance Computing using Oxford's Advanced Research Computing (ARC) cluster.
Visualization, Visual-analytics, dashboard development
Team member: Macro Economic Modeling at Institute of New Economic Thinking (INET), Oxford.
Biography
I am currently serving as a senior postdoc researcher at the Department of Computer Science, University of Oxford in the Artificial Intelligence and Machine Learning Research Group [2022].
I have served as fulltime Senior Research Fellow at the Center for Global Health Infectious Disease Research, College of Public Health, University of South Florida [2021-2022]. I have served as Research Fellow/scientific software engineer at the Brunel University London, College of Engineering, Design and Physical Sciences Department of Computer Science in the area of Modeling & Simulation [2019-2021]. I am a tenured Associate Professor at the Department of Computing, School of Electrical Engineering and Computer Science (SEECS), National University of Sciences and Technology, (Pakistan); and the founding Director of the Center for Research in Modeling & Simulation (CRIMSON) [2015-2019].
Earned Doctoral degree in Software & Computer Systems at School of Information and Communication Technology (ICT), KTH-Royal Institute of Technology Sweden in 2013; Earned Master's degree in Software Engineering of Distributed Systems at School of Information and Communication Technology (ICT), KTH, Sweden in 2007