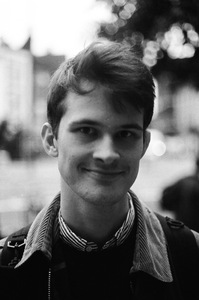 Konrad Kollnig
Doctoral Student
Leaving date: 4th August 2023
Interests
I've finished my studies at Oxford and will no longer update this website.
For up-to-date information, please visit my personal website at https://kollnig.net.
Konrad is a doctoral researcher at the Department of Computer Science, University of Oxford. He started at Oxford as a Masters student, having graduated from RWTH Aachen University with an undergraduate in computer science and mathematics. His main research focus is on building more sustainable digital ecosystems. As part of this, he's been empirically measuring the effect of data protection and privacy laws on the actual data practices of smartphone apps. He's also been trying to build new, autonomy–enhancing technologies and translate legal requirements into technical practice. More generally, Konrad is interested in how we can live in more peace with technology.
His work has been published in leading academic venues, like PETS, FAccT, SOUPS, and the Internet Policy Review. His research has been covered by Forbes, Wired, Vox, Der Standard, La Stampa, Le Temps, TechCrunch, and other international media. He's been selected for the award of the Future of Privacy Forum for the Best Student Privacy Paper for Policymakers 2022, given annually to one paper worldwide. He has also been selected as a member of the expert advisory bodies of the EU's European Data Protection Board and the UK's Information Commissioner's Office (ICO), two leading European data protection and privacy authorities. He has previously been interviewed by the German and UK competition authorities on concentration in digital markets.
Konrad is the creator of TrackerControl, which is an Android privacy app with 100,000+ downloads. The app exposes hidden data flows from apps to companies. It is available in 21 languages thanks to the help of the TrackerControl community. Konrad also helped found a LegalTech startup that is funded by the Alchemist Accelerator (2–3% acceptance rate). You can find more of Konrad's projects under 'Projects'.
For an overview of my recent publications, consult Google Scholar.
Biography
I studied mathematics and computer science in Aachen (Germany), Edinburgh, and Oxford.
Besides my studies, I have long been passionate about IT policy and involved in relevant student societies.
I am now pursuing a doctorate under the supervision of Professor Sir Nigel Shadbolt, as part of the Human-Centred Computing Group.
Selected Publications
Supervisor