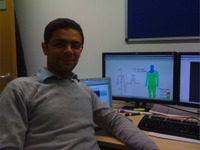 Dr Nejib Zemzemi
Research Assistant
Leaving date: 31st December 2011
Themes:
Completed Projects:
Interests
Theoretical and numerical analysis of the equations governing the electrical activity of the heart
Mathematical analysis of reaction diffusion equations.
Modelling and numerical simulation of ECGs
Design of efficient numerical schemes solving multi-scale problems.
Modelling and numerical simulation of drug effect in cardiac electrophysiology from the ionic channel to the ECG.
Study of the pro-arrhythmic mechanism of drugs.
Inverse problems in cardiac electrophysiology.
Statistical modelling and machine learning techniques.
High performance computing
Reduced order modelling.
Download my CV.
Selected Publications