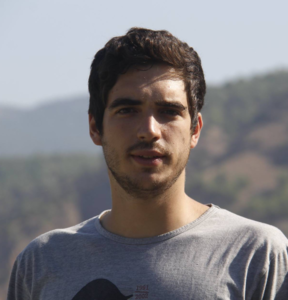 Rui Miguel de Sousa Martinho Soares Barbosa
Research Assistant
ku.ca.xo.sc@asobrab.seraos.iur
ku.ca.xo.nosflow@asobrabseraos.iur
moc.liamg@asobrab.seraos.iur
Wolfson Building, Parks Road, Oxford OX1 3QD
Interests
Broadly speaking, I am interested in the foundations of Physics, particularly of quantum mechanics and quantum information/computation, and in their interplay with several areas of mainstream computer science.
My current research focuses on the following two topics:
The study of non-locality, contextuality and other related concepts in general empirical models, concretely using the sheaf-theoretic framework developed by Abramsky and Brandenburger for generalised (no-signalling) probabilistic theories. On recent work, I looked at monogamy of non-locality and the emergence of locality at the macroscopic level. I've recently also been looking at some surprising connections with database theory, related to the notions of informational dependence and independence.
The topos approach to quantum theory initiated by Isham, Butterfield and Döring, which seeks a reformulation of quantum mechanics using presheaves to capture all the different classical (partial) perspectives into a quantum system. I'm particularly interested in a logic of approximation associated to these partial contexts, in the spectral presheaf as an analogue of state space for noncommutative algebras, and in the connections with the covariant version of the approach.
Despite the different goals and purposes of each of these lines of research, they share both some motivational and technical characteristics, in regarding contextuality as a fundamental feature of quantum mechanics and in using the language of (pre)sheaves to study a system through its 'classical perspectives' (sets of compatible/commuting observables).
Biography
Aug 2016 – Dec 2016

Programme: Logical Structures in Computation




Jan 2015 –

Research Assistant in the Quantum Group
Jan 2016 – Dec 2018: Junior Research Fellow, Wolfson College, Oxford




Oct 2010 – Jul 2015

DPhil in Computer Science
under the supervision of Samson Abramsky and Andreas Döring.
Oct 2010 – Sep 2013: ESR fellow of the MALOA project.
Jan 2014 – Dec 2014: funded by FCT




Oct 2009 – Sep 2010

Mathematical Institute and Computing Laboratory (now Dept. of Computer Science), University of Oxford
My dissertation supervisor was Andreas Döring.




Sep 2006 – Jul 2009

Departments of Mathematics and Informatics, Universidade do Minho, Braga.
Feb 2009 – Jun 2009: Semester Erasmus programme at Center for Software Technology, Utrecht Universiteit
Selected Publications
Activities