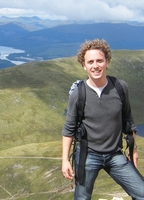 Sebastiaan van Schaik MSc.
Doctoral Student
Leaving date: 8th April 2015
Interests
I am currently working on data mining of probabilistic data with Dr. Dan Olteanu within the European FP7 project "HiPerDNO". Apart from that, I'm interested in practical approaches to graph problems, like reachability (transitive closure). In my spare time, I enjoy rowing and ballroom/latin dancing. Also, I am the president of a worldwide society of Dutch student studying abroad.
More information: my blog at www.sjvs.nl and www.wereldwijdestudenten.nl
Roles
Selected Publications
Projects
Supervisor