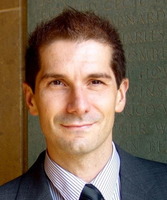 Professor Bernardo Cuenca Grau
Professor of Computer Science
Royal Society Research Fellow
E: bernardo.cuenca.grau@cs.ox.ac.uk
Room 305, Wolfson Building, Parks Road, Oxford OX1 3QD
United Kingdom
Themes:
Completed Projects:
Interests
My research interests are in knowledge representation, ontologies and ontology languages, description logics, automated reasoning and applications in areas such as bio-medical information systems and Semantic Web.
Biography
I am a professor at the Department of Computer Science and currently hold a University Research Fellowship awarded by the British Royal Society. I am a supernumerary fellow of Oriel College, and a faculty member of the Information Systems group.
Doctoral Study in Computer Science
Students working towards their D.Phil (PhD) are an integral part of the Information Systems Group, and make a vital contribution to our research. As a result of a generous donation from Google, we currently have a number of fully funded studentships available in addition to our usual range of studentships and other scholarships . See our studentships page for further details, and information about other funding opportunities .
Software Tools
I have been involved in the design of several tools for ontology management and reasoning. These include the ontology matching tool LogMap , the ontology reasoners MORe and PAGOdA , and the semantic faceted search system SemFacet
See also
Selected Publications
Activities
Projects
Current Students
Past Students