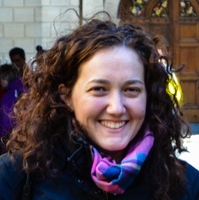 Dr Elisa Passini
Research Assistant
E: elisa.passini < at > cs.ox.ac.uk
Wolfson Building, Parks Road, Oxford OX1 3QD
Interests
My research interests include mathematical modelling of cardiac electrophysiology, by combining clinical and experimental data with modelling and simulations, to gain new insights into the ionic mechanisms underlying cardiac arrhythmias, and to highlight potential therapeutic targets. I am interested in inter- and intra-subject variability and how this variability determine "Who, When and Why?" cardiac patients may be at risk, by investigating the different responses to diseases and drug action, in order to improve their diagnosis and treatment.
I am currently working on in silico drug testing and electrophysiological remodelling in human hypertrophic cardiomyopathy.
I have been working on excitation-contraction coupling in human cardiomyocytes, and investigated how changes in the extracellular environment (e.g. electrolyte concentrations) may affect cardiac electrophysiology.
I'm a member of the Computational Cardiovascular Science group, which is part of the Oxford BHF Centre of Research Excellence.
Academic Links: Research Gate | LinkedIn | Google Scholar | OrCiD
Awards:
Safety Pharmacology Society Junior Travel Award, July 2015
Best Poster Award and Travel Award at the 39th Meeting of the European Working Group on Cardiac Cellular Electrophysiology, June 2015
Biography
I obtained a MSc in Biomedical Engineering (Mar 2011) and a PhD in Bioengineering (May 2015) from the University of Bologna, Italy. From Oct 2013 to Dec 2014, I visited the Computational Biology Group (Department of Computer Science, University of Oxford) and since Jan 2015 I joined the Computational Cardiovascular Science Team as a postdoctoral Research Assistant with Prof. Blanca Rodriguez, funded by her Wellcome Trust Senior Research Fellowship in Biomedical Sciences.
Selected Publications
Current Student