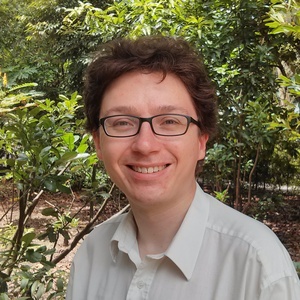 Jamie Vicary
Senior Research Fellow
E: jamie.vicary@cs.ox.ac.uk
Room 208, Wolfson Building, Parks Road, Oxford OX1 3QD
Interests
My work is on high-level mathematical structures for fundamental phenomena in computer science and physics. There is a lot in common between these fields, which both study the laws and emergent features of systems with local interactions. Particular areas of recent interest include the structure of quantum algorithms, a new higher-categorical language for physics and computer science, and the classification of topological quantum field theories.
I am a Senior Research Fellow at the Quantum Group in the Computer Science department of the University of Oxford, and I am also a Research Fellow at Wolfson College, Oxford.
Here are some things I've been working on:
If you're interested in these ideas, please get in touch! I am always interested in giving talks, meeting other scientists with similar interests, and starting new collaborations.
Travel
Here are some places I will in 2016.
On 26-29 April I will be at the 2016 Workshop on Informatic Processes in Fontainebleau, near Paris.

On 25-29 May I will be at the Georgia Topology Conference organized by David Gay, in Athens, Georgia.

On 2-5 June I will be at Foundational Methods in Computer Science 2016 at the University of British Colombia in Vancouver, giving a tutorial on Globular, and giving a contributed talk on linear logic.

Between 11 July and 5 August I will be giving a lecture course on

Categories, Quantum Computation and Topology at the 2016 AARMS Summer School, at Dalhousie University, Halifax.
I will be at CT2016 in the week 8-13 August, also at Dalhousie University, Halifax.
Between 14 August and 16 October I will be visiting the Simons Institute at Berkeley, California for their programme on Logical Structures in Computation.
Other things
Here's some other things I'm doing at the moment:
I co-organize the Oxford Advanced Seminar in Informatic Structures (OASIS), with Chris Heunen, Clare Horsman, Aleks Kissinger and Sam Staton.
I'm part of the Centre for Quantum Mathematics and Computation (QMAC), an interdisciplinary collaboration between the Oxford's Computer Science, Mathematics and Physics departments.

I maintain two popular mailing lists, one for international quantum foundations announcements with over 800 subscribers, and another for quantum computing and quantum foundations events taking place in Oxford with around 100 subscribers. Please get in touch if you'd like to be added to either of these.

Since 2012, I've been lecturing a course on Categorical Quantum Mechanics with my colleague Chris Heunen, and we're also writing a book that will come out soon with OUP.

I frequently supervise DPhil, MSc and undergraduate students (and sometimes school students too!) on topics related to the mathematical foundations of quantum computing. If you'd like to work on a project with me, get in touch.
Biography
Selected Publications
Activities
Current Students
Past Students