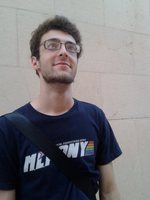 Will Smith
Doctoral Student
Leaving date: 31st May 2017
Interests
Microbial biofilms incorporate a range of inter-woven physical, chemical and biological processes. In a confluent biofilm, interactions between constituent microbes are particularly significant: cells are in close physical contact, constantly pushing one another out of the way as they grow and divide.
However, the effects that these mechanical interactions exert on film development are not yet well-understood for populations of non-spherical cells, such as P. aeruginosa or E. coli. The aim of my research is to develop, compare, and finally apply computer models to investigate how microbial cell shape affects the systems biology of a microbial colony, focussing on the emergence of spatial structure and its effects on microbial ecology.
Along with Joe and James, I am also supervised by Kevin Foster (Zoology) and Yohan Davit (IMFT Toulouse).
Supervisors