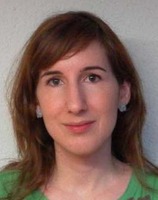 Ana Mincholé
Marie Curie Research Fellow
Leaving date: 19th March 2019
Themes:
Completed Projects:
Interests
My current research interests include cardiac electrophysiology and biomedical signal processing with the aim to provide selective biomarkers from the electrocardiographic signal to predict cardiac arrhythmias either drug-induced or due to pathological conditions.
I have been working primarily on ECG signal analysis, gaining expertise in detection theory, classification and signal processing techniques applied to the electrocardiographic signal. Then, I moved to cardiac electrophysiology with the aim to understand ionic mechanisms at cellular level using computational heart models and expanding this information to tissue, whole organ and body surface, in order to extract biomarkers to be measured noninvasively at the electrocardiogram.
Collaborators and areas I am working on:
Computational cardiac electrophysiology: Dr Blanca Rodriguez, Dr Alfonso Bueno and Sara Dutta (Department of Computer Science, Oxford) and Dr Jose Felix Rodriguez (University of Zaragoza)
Biomedical Signal Processing: Dr Pablo Laguna, Dr Esther Pueyo and Julia Ramirez (University of Zaragoza) and Dr. Leif S

ö

rnmo (Lund University).
Clinical electrophysiology in Hypertrophic cardiomyopathy: Dr Rina Ariga and Prof Hugh Watkins (Department of Cardiovascular Medicine, Oxford).
Clinical electrophysiology in Ischemia: Dr Erica Dall' Armelina (Department of Cardiovascular Medicine, Oxford).
Clinical cardiac electrophysiology: Prof Peter Taggart (Heart Hospital).
Awards:
Marie Curie Intra-European fellowship for career development (FP7-PEOPLE-2011-IEF), 2011.
Poster presentation award in the Annual International Society for Computerized Electrocardiology (ISCE) conference, 2010
Poster presentation award, Computers in Cardiology conference, 2005
MsC with distinction from Chalmers University of Technology, 2001
Biography
Ana Mincholé graduated in Physics from the University of Zaragoza, Spain in 2002. She also obtained a Masters degree in the programme "Nanoscale Physics and Engineering" from Chalmers University of Technology, Gothenburg, Sweden. During her Master Thesis, performed at Imego, she was involved in the development of a sensor aimed at identifying specific particles such as the specific proteins to diagnose Alzheimer disease. She then started a PhD in Biomedical Engineering in the Communication Technology group at the University of Zaragoza, supervised by Prof. Pablo Laguna. Her PhD was focus on automatic detection of ischemia in Holter recordings and search for new arrhythmic risk markers from the electrocardiographic signal. During her PhD, she conducted research visits to Laboratory for Biomedical Computer Systems and Imaging at the University of Ljubljana, Slovenia, with Prof. Franc Jager, and to the Argentinian Institute of Mathematics, CONICET with Dr. Pedro Arini and Dr. Marcelo Risk. As a postdoc, she worked at the centre of research excellence CIBER-BBN, Spain, and at the Computational Biology group, University of Oxford, within the European project preDiCT. In 2012, she was awarded with a Marie Curie Intra-European fellowship for Career Development and joined the Computational Biology Group at the Department of Computer Science at the University of Oxford with Dr. Blanca Rodriguez.
Selected Publications
Past Students