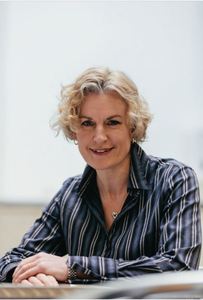 Carolyn Ten Holter BA(Oxon), PgDip, MA
Doctoral Student
Research Associate
E: carolyn.ten.holter@cs.ox.ac.uk
39a St Giles, Oxford, OX1 3LW
Interests
My Masters in Library and Information Science looked at open access repositories and ways of incentivising academics to self-archive in these essential parts of the open access system. In particular I investigated whether academics would be more motivated to self-archive if there was a clearer link between publishing material to the IR and the evidence required for career progression.
My doctoral research is investigating responsible research and innovation practice in emerging technologies, in particular quantum technologies.
Biography
I read law at New College, then moved into marketing and communications in a variety of industries, including start-up finance, oil & gas exploration modelling and hi-tech PR. I was head of marketing at law firms in the City and in Oxford. Since completing my Masters, I work on the ORBIT project, which trains researchers in the principles of Responsible Research and Innovation. I commenced my DPhil studies in responsible quantum computing in October 2019.
I sit on the Advisory Council for 100 Brilliant Women in AI Ethics (WAIE)
Selected Publications
Projects