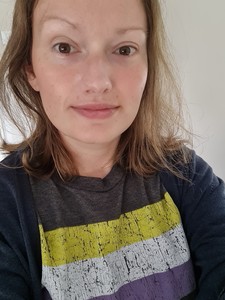 Jordan Summers
Project Officer / PA to Prof. Ivan Martinovic
E: jordan.summers@cs.ox.ac.uk
Department of Computer Science,
Robert Hooke Building, Room 110
Directions Postal Address
Biography
My role involves:
Looking after the day-to-day operations of the Systems Security Lab, based in the Robert Hooke Building (next to the Natural History Museum), which comprises 7 DPhils and 4 Postdocs.
Supporting the management of Ivan Martinovic's portfolio of grants.
I am also a Mental Health First Aider, a Harassment Adviser, and am involved in the division's LGBTQ+ staff community as well as actively championing the perspectives of fellow neurodivergent people wherever I can. In my spare time I've done some music journalism, (bad) music-making, and freelance proofreading/editing. I'm currently working towards a Masters in Systems Thinking in Practice with the Open University, and I like stationery, Star Trek, and a nice cardigan.
I've worked for the department for 10 years, and as well as higher education I have experience with working for NGOs and in both local and central government.
Please feel free to contact me about anything SSL-related, or if you want a coffee and a chat. If you want to join our Teams community run BY and FOR neurodivergent staff go here.
I'm in the office Mon-Weds, and I work from home Thurs-Fri.
My pronouns are they/she.