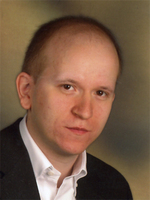 Matthias Fruth
Doctoral Student
Leaving date: 20th January 2012
Themes:
Completed Projects:
Interests
My main research interests are:
formal methods for modelling, verification, and performance analysis of distributed systems;
theory, implementation, and applications of probabilistic model checking, model checking, and runtime monitoring techniques;
probabilistic model checking for ubiquitous computing;
Quality of Service properties of wireless sensor networks and communication protocols;
policy optimisation for power management of partially observable systems.
Biography
I have been a Doctoral Student at the Department of Computer Science, University of Oxford and passed my viva in March 2011.
Between 1999 and 2005, I studied Computer Science with minor subject Mathematics at the Department of Computer Science of TU Dresden and obtained a Bachelor and a Diploma degree in 2002 and 2005 respectively. From September 2002 to June 2003, I visited the University of Birmingham under the ERASMUS programme and studied Computer Science and Mathematics. From January 2005 to September 2007, I was a Teaching Assistant in the School of Computer Science of the University of Birmingham. From October to December 2006, I was a Visiting Researcher in the Formal Methods program of National ICT Australia in Sydney and worked with Annabelle McIver and Ansgar Fehnker on the PEWNA project.
Selected Publications
Activities
Supervisor