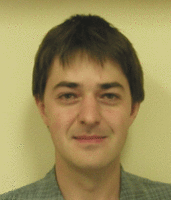 Dr Radu Calinescu
Leaving date: 18th March 2013
Interests
My main research interests are in
automated, model- and metadata-driven software engineering
formal specification, modelling and verification
high-performance computing
and the application of the theories, approaches and techniques specific to the above research areas to the modelling, development and analysis of
self-* systems and systems of systems
complex, context-dependent and adaptive IT systems
health informatics
Building on industrial research experience I gained in my previous job as the Technical Architect of an Oxford University spin-out software company, I developed a general-purpose framework for the model- and metamodel-driven development of autonomic computing solutions. The vision and theoretical foundations underpinning this framework are described in Springer's 2009 volume on Autonomic Computing and Networking, and its implementation details are presented in a research paper that won a Best Paper Award at the 4th International Conference on Autonomic and Autonomous Systems.
Biography
I am a Lecturer in Computer Science at Aston University; and a part-time Lecturer on the Software Engineering Programme at the University of Oxford.
Prior to joining Aston University in October 2009, I was a Senior Research Officer on UK's Large-Scale Complex IT Systems research and training initiative (January 2008 - September 2009); a Research Officer on UK's CancerGrid research initiative (July 2005 - December 2007); and the Technical Architect/Senior Development Manager of Sychron Ltd, an Oxford software company specialising in the development of policy-driven data-centre management solutions (1999-2005).
My University of Oxford DPhil thesis on Autonomic-Independent Loop Parallelisation received a British Computer Society Distinguished Dissertation Award, and is available as a Springer-Verlag book.
projects
Cloud Computing for Large-Scale Complex IT Systems
teaching
other activities
program committee memberships
editorial boards
recent invited presentations
professional memberships
Selected Publications
Activities