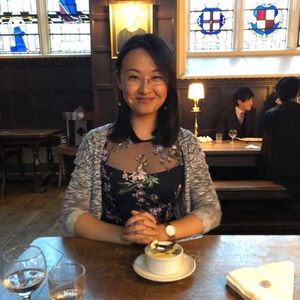 Zhinuo (Jenny) Wang
Research Associate
E: jenny.wang@cs.ox.ac.uk
Wolfson Building, Parks Road, Oxford OX1 3QD
Biography
My background is in Biomedical Engineering, and I did my Bachelors (2010-2013) and subsequent PhD degree (2014-2018) in this subject at the University of Auckland, in the Auckland Bioengineering Institute. The supervisors for my doctorate degree were Prof Martyn Nash, Dr Vicky Wang, Prof Alistair Young, and Dr Christopher Bradley. During my PhD, I used finite element modelling to estimate the passive and active mechanical properties of the myocardium in human heart failure patients. We had a collaboration with cardiologists at the St Francis Hospital in NY, who provided cine MRI and catheter pressure measurements for 28 subjects, with both HFpEF and HFrEF (as well as control) phenotypes. From this work, we were able to provide preliminary results on tissue stiffness differences between HF groups and set up a framework for more local clinical collaborations, which are currently underway in Auckland, New Zealand.
I finished my PhD in January 2018 and started my first post-doc with Dr Alfonso Bueno-Orovio at the University of Oxford in April 2018. This project was focused on investigating the electrophysiology and arrhythmic risk of HCM patients using biventricular computational modelling and simulation techniques.
In October 2019, I started my current, second, post-doc with Professor Blanca Rodriguez at the same group. My current project is on investigating the electromechanical properties of post-myocardial infarction patients and evaluating their arrhythmic risk using biventricular simulations.
Selected Publications
Projects
Supervisors