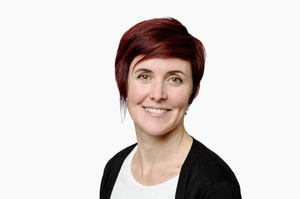 Professor Blanca Rodriguez
Professor of Computational Medicine
Wellcome Trust Senior Research Fellow in Basic Biomedical Sciences
Interests
The Computational Cardiovascular Science Team website includes more details on our team and our research. A link to my Google Scholar page with a list of my publications can be found here.
My research interest is on investigating variability in the response of human hearts to disease and therapies, by exploiting computational methods to augment experimental and clinical investigations. We focus primarily on computational modelling and simulation, combined with other approaches such as machine learning, to expand and augment the information extracted from experimental and clinical datasets. Our research is based on very close interactions with experimental and clinical electrophysiologists and pharmacologists in academia, hospitals and industry.
I am a Wellcome Trust Fellow in Basic Biomedical Science and Professor of Computationl Medicine in the Department of Computer Science of the University of Oxford. I have supervised over 20 PhD/DPhil students to completion, who subsequently took jobs in academia, industry and regulatory agencies. I have been elected Fellow of the European Society of Cardiology and of the European Alliance of Medical and Biological Engineering and Science. I serve as a member of the Board of the National Centre for the Replacement, Refinement and Reduction of Animals in Research, and the European Society of Cardiology e-cardiology Nucleus Working Group, the Council of Basic Cardiovascular Science, and the Council of Cardio-Oncology. I provide expert advice on computational biomedicime to industry, regulartory agencies and national and international organisations.
We are part of the British Heart Foundation Centre of Research Excellence and we are currently funded by the Wellcome Trust, the NC3Rs, the European Comission, the British Heart Foundation, EPSRC and the Royal Society. Previously, I received substancial support from the Medical Research Council (Career Development Award, Industry Partnership Award and MRC Centenary Award).
Understanding variability in cardiac response to disease, drugs or mutations is key to determine who, when and how cardiac patients may be at risk, and how to improve their diagnosis and treatment. The mechanisms underlying cardiac electromechanical activity are complex, multiscale and non-linear, involving numerous multiscale feedback loops from the gene to the whole body level. Computational modelling and simulation integrated with experimental and clinical research can help overcoming the challenges involved in dissecting the key mechanisms underlying potentially lethal abnormalities in cardiac activity, such as cardiac arrhythmias.
Prof Andras Varro, Dr Laszlo Virag, Dr Norbert Jost at the University of Szeged (experimental human cardiac electrophysiology);
Dr Michelangelo Paci and Prof Jari Hyttinen, Tampere University (computed modelling)
Prof Igor Efimov at the University of Washington in St Louis (experimental human and rabbit cardiac electrophysiology);
Prof Peter Taggart, Dr Ben Hanson, Prof Pier Lambiase, Heart Hospital (clinical cardiac electrophysiology);
Dr Stefano Severi, University of Bologna, Italy;
Prof Barbara Casadei, Dr Erica Dall' Armelina, Dr Rina Ariga and Prof Hugh Watkins, Prof Stefan Neubauer at the Department of Cardiovascular Medicine, John Radcliffe Hospital (cardiac electrophysiology, cardiac magnetic resonance MRI);
Prof Ursula Ravens, University of Dresden (human atrial pharmacology)
Dr Esther Pueyo and Prof Pablo Laguna at the University of Zaragoza (signal processing of the electrocardiogram);
Prof David Abramson at University of Queensland (NIMROD, software for sensitivity analysis);
Prof Peter Coveney at University College London (High Performance Computing);
Dr Annamaria Carusi at the Sheffield University (philosophy of science and technology in medicine);
Pharmaceutical companies Janssen Pharmaceutica, AstraZeneca and GlaxoSmithKline.
Dr Vicente Grau (image analysis), Prof Kevin Burrage, Dr David Kay (computational mathematics, numerical methods, scientific computing) at the University of Oxford.
Dr Mariano Vazquez, Barcelona Supercomputing Centre (High Performance computing).
Dr Michelangelo Paci, Prof Jari Hyttinen Tampere University, Finland (modelling of stem cell derived cardiomyocytes).
Dr Najah Abi-Gerges, AnaBios Corporation.
Dr David Strauss, Zhihua Li, USA FDA.
Dr Hua-Rong Lu, Dr David Gallacher, Janssen Pharmaceuticals.
Dr Pierre Morisette, Frederick Sandjust, Merck Co.
Dr Yusheng Qu, Hugo Vargas, Amgen.
Prof Emilia Entcheva, George Washington University, USA.
SELECTED PUBLICATIONS
Tomek J, Bueno-Orovio A, Passini E, Zhou X, Minchole A, Britton O, Bartolucci C, Severi S, Shrier A, Virag L, Varro A, Rodriguez B. Development, calibration, and validation of a novel human ventricular myocyte model in health, disease, and drug block. eLife,

2019;8:e48890

DOI:

10.7554/eLife.48890.
Martinez-Navarro H, Minchole A, Bueno-Orovio A, Rodriguez B. High arrhythmic risk in antero-septal acute myocardial ischemia is explained by increased transmural reentry occurrence. Scientific Reports, 9: 16803, 2019.
Lyon A, Bueno-Orovio A, Zacur E, Ariga R, Grau V, Neubauer S, Watkins H, Rodriguez B* and Minchole A*. ECG phenotypes in hypertrophic cardiomyopathy caused by distinct mechanisms: apico-basal repolarization gradients versus Purkinje-myocardial coupling abnormalities. Insights from a high performance simulation study informed by cardiac magnetic resonance. *senior authors. Europace, Nov 1;20(suppl_3):iii102-iii112, 2018.
Lyon A, Ariga R, Minchole A, Mahmod M, Ormondroyd E, Laguna P, de Freitas N, Neubauer S, Watkins H, Rodriguez B. Distinct ECG phenotypes identified in hypertrophic cardiomyopathy using machine learning associate with arrhythmic risk markers. Frontiers in Physiology, 9:213, 2018.
Passini E, Britton OJ, Lu HR, Rohrbacher J, Hermans AN, Gallacher DJ, Greig RJH, Bueno-Orovio A, Rodriguez B. Human in silico drug trials demonstrate higher accuracy than animal models in predicting clinical pro-arrhythmic cardiotoxicity. Frontiers in Physiology, 8:668. doi: 10.3389/fphys.2017.006682017, 2017. (2017 NC3Rs Prize)
Reilly SN, Liu X, Carnicer R, Recalde A, Muszkiewicz A, Jayaram R, Carena MC, Stefanini M, Surdo NC, Wijesurenda R, Lomas O, Ratnatunga C, Sayeed R, Krasopoulos G, Rajakumar T, Bueno-Orovio A, Verheule S, Fulga TA, Rodriguez B, Schotten U, Casadei B. Atrial-specific upregulation of miR-31 in human atrial fibrillation begets the arrhythmia by depleting dystrophin and neuronal nitric oxide synthase. Science Translation Medicine, 8(340), 340ra74.
Zhou X, Bueno-Orovio A, Orini M, Hanson B, Hayward M, Taggart P, Lambiase PD, Burrage K, Rodriguez B. In vivo and in silico investigation into mechanisms of frequency dependence of repolarization alternans in human ventricular cardiomyocytes. Circulation Research, 118:266-278, 2016.
Paci M, Hyttinen J, Rodriguez B*, Severi S*. Human induced pluripotent stem cell-derived versus adult cardiomyocytes: an in silico electrophysiological study on ionic current block effects. British Journal of Pharmacology. 2015, 172: 5147-5160. * Joint senior authors.
Britton O, Bueno-Orovio A, Van Ammel K, Lu HR, Towart R, Gallacher D, Rodriguez B. Experimentally-calibrated population of models predicts and explains inter-subject variability in cardiac cellular electrophysiology. Proceedings of the National Academy of Sciences of the USA, 110(23):E2098-E2105, 2013. (2014 NC3R Prize)
Walmsley J Rodriguez JF, Mirams GR, Burrage K, Efimov IR, Rodriguez B. mRNA expression levels in failing human hearts predict cellular electrophysiological remodelling: A population-based simulation study. PLoS ONE 8(2): e56359. doi:10.1371/journal.pone.0056359, 2013.
Rodríguez B, Li L, Eason J, Efimov IR, Trayanova N. Differences between LV and RV chamber geometry affect cardiac vulnerability to electric shocks. Circ Res, 97:168-175, 2005. (Figure in Cover).
AWARDS:
Wellcome Trust Senior Research Fellowship in Biomedical Sciences, Renewal (2019-2024).
Impact Award, MPLS Division, University of Oxford, 2018.
2017 NC3Rs International Prize (for Passini et al., 2017).
NC3Rs Infrastructure for Impact Award (2016-2021).
2014 NC3Rs International Prize (for Britton et al., 2013).
Wellcome Trust Senior Research Fellowship in Biomedical Sciences (2013-2018).
Archer Leadership project (2015-2017).
EPSRC Impact Acceleration Award (2013-2016)
Medical Research Council Centenary Award (2012-2013).
Medical Research Council Industrial Partnership Award (2012-2013).
Medical Research Council Career Development Award (2007-2013).
Wellcome Trust Career Development Research Fellowship (2007-2012)
BHF Intermediate Research Fellowship (2007-2011)
Leverhulme Early Career Research Fellowship (2007-2009)
Merit Award, Oxford University Computing Laboratory, 2005-2006 and 2008-2009.
First Prize, Young Investigators Award Competition, Heart Rhythm Society Scientific Sessions, San Francisco, USA, May 2004.
Biography
Blanca was born in Valencia, Spain, where she attended the Lycee Francais de Valencia, and graduated as an Electronics Engineer from the Universidad Politecnica de Valencia, Spain, in 1997. She then started a PhD in the Integrated Laboratory of Bioengineering supervised by Prof. Chema Ferrero and at the same time became an Assistant Professor in Electronics and Biomedical Instrumentation at the Universidad Politecnica de Valencia. During her PhD studies, she investigated the causes of extracellular potassium accumulation during acute ischaemia using a mathematical model of single cell action potential. After graduating in 2001, she joined Prof. Natalia Trayanova's group at Tulane University in New Orleans (now at Johns Hopkins University), as a Postdoctoral Research Fellow. Her research focused on the mechanisms of cardiac vulnerability to electric shocks in normal and globally ischemic hearts. In 2004, she won the First Prize in the Young Investigator Award Competition in Basic Science of the Heart Rhythm Society. After spending two years in New Orleans, she joined Oxford University in August 2004, as a Senior Postdoctoral Fellow with Prof. David Gavaghan, funded by the Integrative Biology Project. From 2007 to 2013, Blanca Rodriguez held a Medical Research Council Career Development fellowship and she has also been awarded funding by European Comission, Royal Society, EPSRC, Wellcome Trust, BHF and Leverhulme Trust. She is currently a Wellcome Trust Senior Research Fellow in Basic biomedical Science and Professor of Computational Medicine.
Roles
Selected Publications
Completed Projects
Current Students
Research
Past Students
Past Researchers