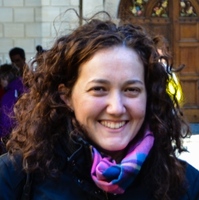 Dr Elisa Passini
Research Assistant
Leaving date: 30th June 2022
Themes:
Completed Projects:
Interests
My research interests include mathematical modelling of cardiac electrophysiology, by combining clinical and experimental data with modelling and simulation, to gain new insights into the ionic mechanisms underlying cardiac arrhythmias in humans.
I am particularly interested in variability and in understanding how this variability determines "When and Why?" patients may be at risk. By investigating the different responses to diseases and drug action, we aim to improve patient diagnosis and treatment.
I am currently working on human in silico drug trials in populations of cardiac action potential models, to identify new biomarkers of drug safety and efficacy.
This research promote the use of computer models for prediction of drug-induced arrhythmias at early stages of drug development, as a cheap and fast alternative to animal models.
I have been working on human hypertrophic cardiomyopathy, excitation-contraction coupling in human cardiomyocytes, and investigated how changes in the extracellular environment (e.g. electrolyte concentrations) may affect cardiac electrophysiology.
I'm a member of the Computational Cardiovascular Science group, which is part of the Oxford BHF Centre of Research Excellence.
Academic Links:
Research Gate | LinkedIn | Google Scholar | OrCiD
Awards:
Sep 2017 - Technological Innovation Award, Safety Pharmacology Society Annual Meeting, Berlin (Germany)
Jan 2017 - Recognition Award, University of Oxford (UK)
Sep 2015 - Junior Travel Award, Safety Pharmacology Society Annual Meeting, Prague (Czech Republic)
Jun 2015 - Travel Award and Best Poster Award, 39th Annual Meeting of the EWGCCE, Milan (Italy)
Biography
I obtained a MSc (Mar 2011) and a PhD in Bioengineering (May 2015) from the University of Bologna, Italy. During my PhD I visited the Computational Cardiovascular Science Team (Department of Computer Science, University of Oxford) to work on hypertrophic cardiomyopathy (Oct 2013- Dec 2014), and since Jan 2015 I joined the group as a postdoctoral Researcher with Prof. Blanca Rodriguez.
Selected Publications
Completed Projects