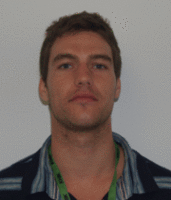 Lorenz Berger
Doctoral Student
Interests
My main interests are in mathematical modelling, scientific computing and medical imaging. A particular research focus is the development of biomedical image analysis algorithms, and their combination with computational models. I am also interested in the development of robust numerical solvers for partial differential equations using the tools of numerical analysis.
Lung modelling
A video showing a poroelastic model of the right lung breathing.
We are currently developing a poroelastic model of the lung that approximates the lung parenchyma by a biphasic (tissue and air) poroelastic model, that is coupled to a fluid network model of the airways. This work is part of the AirPROM (Airway Disease Predicting Outcomes through Patient Specific Computational Modelling) EU Framework Funded Project. The project aims to bring together experts and current research to build a multi-scale computational model of the lung as a new way of characterising asthma and COPD.
Future work aims to apply this model in the field of computational surgery. For example using the model to predict the outcome of lung volume reduction surgery (LVRS). A successful model will predict how much a particular patient will benefit from this high risk treatment, and help clinicians decide whether or not to perform surgery.
Finite element methods for poroelasticity
A video showing a sponge being compressed.
Poroelasticity is a theory in which a complex fluid-structure interaction problem is approximated by a superposition of both solid and fluid components using averaging techniques. Hydrated biological tissues are often modelled mechanically as a poroelastic medium. Accurate and efficient finite element methods are required to solve large poroelastic models of experimental and clinical importance.
We have developed and analysed a stabilized low-order finite element approximation for linear three-field poroelasticity. Current research is aimed at extending this work to non-linear large deformation poroelasticity.
Signal Processing and Pattern Recognition
Some past projects have included developing a computer vision algorithm for detecting fusion and undocking events of fluorescently-tagged proteins located on vesicles, and a bayesian independent component analysis model to infer functional connectivity patterns in the brain from functional MRI data .
A draft of my thesis can be found here.
Selected Publications
Activities
Supervisors