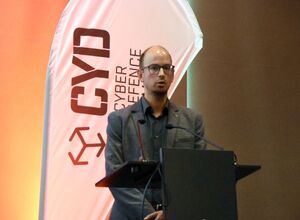 Dr Martin Strohmeier
Visiting Fellow
Leaving date: 1st April 2021
Interests
My general research interests lie in the fields of security and privacy in wireless communication, more specifically anything to do with sensing, the internet of things (IoT), crowdsourced networks and the interplay of (cyber)security and safety. In particular, I have focused on all types of wireless technologies used in aviation (e.g., ADS-B or ACARS), navigation, and other critical infrastructures (satellites, space, maritime). More recently, I have analysed privacy issues in complex global systems such as aviation and shipping, often in conjunction with open source intelligence, data mining and adversarial machine learning.
You can check out my Google Scholar profile for a full overview of my published work.
I am also responsible for research and communications at the OpenSky Network, featured regularly in the departmental magazine.
News
Sep 2023: We are organising the first Multi-Agent Security Workshop at NeurIPS 2023!


Aug 2023: Our paper Watch This Space: Securing Satellite Communication through Resilient Transmitter Fingerprinting has been accepted at ACM CCS 2023. See you in Copenhagen!


Jul 2023: We are travelling to Usenix Security 2023 and DEFCON! At Usenix, we will present our paper FABRID: Flexible Attestation-Based Routing for Inter-Domain Networks. At DEFCON we will showcase Brokenwire and also give three(!) talks on our work in aviation and satellite security/privacy at the Aerospace Village. See you in Anaheim and Vegas!


Jun 2023: The first Workshop on the Security of Space and Satellite Systems, SpaceSec 2023, co-located with NDSS 23 in San Diego, has turned out to be a resounding success. Check out the workshop proceedings on the NDSS webpage and stay tuned for exciting announcements on the second edition next year!


Sep 2022: Brokenwire present at two security conferences: Demo @ ACM CCS 2022 and full paper at NDSS 2023.


Aug 2022: The 10th OpenSky Symposium is held at TU Delft on November 10/11. Registration open and a fantastic programme out now. Update: Proceedings are now available!


May 2022: Three new papers across the whole breadth of my research accepted at top conferences! Aggregate-based Congestion Control for Pulse-Wave DDoS Defense @ ACM SIGCOMM 2022 (presentation, code), An Experimental Study of GPS Spoofing and Takeover Attacks on UAVs @ Usenix Security 2022 (slides, presentation) and Communicating via Maximum Entropy Reinforcement Learning @ ICML 2022.


Apr 2022: Our Brokenwire attack on vehicular charging infrastructure has received significant press coverage. Check out the pre-print and the dedicated website.


Nov 2021: The 9th OpenSky Symposium is running in hybrid mode at Eurocontrol on November 17/18. See you in Brussels or join us online!


Jun 2021: Our paper "You talkin' to me? Exploring Practical Attacks on Controller Pilot Data Link Communications" received the best paper award at the 7th ACM Cyber-Physical System Security Workshop (CPSS 2021).


May 2021: The Call for Papers for the 9th OpenSky Symposium is out! Our increasingly selective symposium is inviting contributions on all things to do with data science in aviation.


Dec 2020: Two papers recently accepted at top systems conferences! Our paper SLAP: Improving Physical Adversarial Examples with Short-Lived Adversarial Perturbations will be published at Usenix Security 2021 and our paper QPEP: An Actionable Approach to Secure and Performant Broadband From Geostationary Orbit will appear at The Network and Distributed System Security Symposium (NDSS) 2021.


Nov 2020: Due to the pandemic situation, we have been running the 8th OpenSky Symposium on Nov 12/13 entirely online, sponsored by EUROCONTROL. If you are interested in aviation data and research, check out the Proceedings and the video talks.


Aug 2020: We are heavily involved with the Aerospace Village at this years DEF CON (#safemode). Besides talks on aviation security, we are running an exciting Aviation Privacy OSINT for everyone to test their skills on Aug 7 and after.


Jun 2020: We are running a new Aircraft Localization Competition, with interesting prizes! Prove your data science skills and machine learning proficiency in order to advance the science of localization in crowdsourced sensor networks.


Apr 2020: In the wake of the Covid-19 crisis, our OpenSky work is now being used by many institutions for economic nowcasting, including the Bank of England.


Jan 2020: Two papers recently accepted at top systems conferences! Our paper A View from the Cockpit: Exploring Pilot Reactions to Attacks on Avionic Systems was published at The Network and Distributed System Security Symposium (NDSS) 2020 (slides, presentation) and our paper A Tale of Sea and Sky: On the Security of Maritime VSAT Communications was published at the IEEE Symposium on Security and Privacy (S&P) 2020 (introductory video, presentation)!
Biography
Martin Strohmeier (PGP key) is a Senior Scientist at the Swiss Cyber Defence Campus, where he is primarily based at the ETH Zurich office, and also a Visiting Fellow of Kellogg College. The main focus of his work has been the design, implementation, and analysis of security protocols for cyber-physical systems and networks, specifically those used in critical infrastructures found in the air, in space or on the ground. Using these domains as a driver for the real-world applicability of his research, his work has been published in many diverse venues, spanning wireless communications, cryptology, systems security, sensor networking, privacy and aviation.
During his DPhil (2016) at Oxford with Prof. Ivan Martinovic, he has extensively analyzed the security and privacy of wireless aviation technologies of this generation and the next. This line of work has predominantly been focused on developing cyber-physical approaches which can improve the safety and security of air traffic control quickly and efficiently. After completing his DPhil, he has been extending his interests towards areas of open-source intelligence, privacy issues in aviation and satellite environments, and most recently adversarial machine learning.
Martin is also a co-founder and board member of the aviation research network OpenSky and responsible for coordinating research activities there. Before coming to Oxford in 2012, he received his MSc degree from TU Kaiserslautern, Germany and joined Lancaster University's InfoLab21 and Lufthansa AG as a visiting researcher. His work on aviation security received several awards from the aviation and computer security communities, including the EPSRC Doctoral Prize Fellowship. His dissertation was further highly commended by the British Computer Society.

Recent Professional Activities
Previous TPC Memberships
2022: Usenix Sec, CPSS, OpenSky
2021: NTMS, CPSS, CRITIS, OpenSky
2020: SECURECOMM, CPSS, ICR, OpenSky
2019: SECURECOMM, CSITS, CPSS, NTMS
2018: SECURECOMM, DASC, CSITS, SpaCCS, CPSS, NTMS
2017: SECURECOMM, SpaCCS, ICCST, SSCC, INTRICATE-SEC
2015: GLOBECOM
Selected Publications
Activities