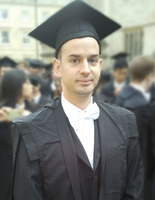 Dr Martin Strohmeier
Research Officer
E: firstname.lastname@cs.ox.ac.uk
Interests
General research interests: security and privacy in wireless networks, wireless sensor networks, future air traffic control communication, crowdsourcing, UAV, ADS-B, ACARS, and more generally all wireless technologies used in aviation, navigation and critical infrastructures. Recently, I have also been interested in privacy issues in complex global systems such as aviation, open source intelligence, and data mining.
I am also contributing to the OpenSky project, featured in the departmental magazine. For more up to date information on our work on aviation security, please see Aviation Security at Oxford.
News:
We are excited to announce the 7th OpenSky Workshop in Zurich on November 21/22! After the previous successful iterations, we are this year calling for presentations and short papers from the whole OpenSky community.
Prior to the workshop, I am organizing a conference on Aviation Cyber Security in Zurich on November 19/20. I am looking forward to bringing many excellent aviation security experts together for an exciting event.
Biography
Martin Strohmeier (PGP key) is a Junior Research Fellow of Kellogg College, University of Oxford and a Scientific Project Manager at the Swiss Cyber Defense Campus. His main research interests are currently in the area of network security, including wireless sensor networks and critical infrastructure protection. During his DPhil at Oxford, he has extensively analyzed the security and privacy of wireless aviation technologies of this generation and the next . His work predominantly focuses on developing cyber-physical approaches which can improve the security of air traffic control quickly and efficiently. He is also a co-founder of the aviation research network OpenSky. Before coming to Oxford in 2012, he received his MSc degree from TU Kaiserslautern, Germany and joined Lancaster University's InfoLab21 and Lufthansa AG as a visiting researcher.
Recent Professional Activities
Previous TPC Memberships
2018: SECURECOMM, DASC, CSITS, SpaCCS, CPSS, NTMS
2017: SECURECOMM, SpaCCS, ICCST, SSCC, INTRICATE-SEC
2015: GLOBECOM
Selected Publications
Activities
Supervisor