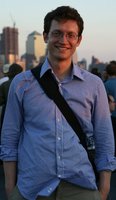 Dr Ramón Casero Cañas
Research Assistant
Leaving date: 6th June 2012
Themes:
Completed Projects:
Biography
Dr Ramón Casero got his BSc and MSc (Hons) in Telecommunication Engineering from Universidad Carlos III of Madrid in 2003. He wrote his master's thesis on linear transformations for genetic algorithms under supervision of Dr. Sancho Salcedo Sanz and Dr. Carlos Bousoño Calzón of the Department of Signal Theory and Communications.
During his undergraduate studies, Ramón spent two months in 1999 at the Siemens I+D Department of Microtechnic in Berlin, designing and implementing an instrumentation and monitoring program for the automation of silicon wafer etching processes, with a "Siemens International Student Program" studentship.
Also during his undergraduate studies, Ramón spent the academic year 1999/2000 at the Institute for Information Processing and Microprocessor Technology at the Johannes Kepler Universität in Linz, Austria, on an Erasmus scholarship, under supervision of Prof. Jörg Mühlbacher.
Ramón read for a DPhil in Medical Image Processing under Prof. Alison Noble at the Wolfson Medical Vision Laboratory, part of the Robotics Research Group of the Department of Engineering Science at the University of Oxford, and in collaboration with Prof. Harald Becher and Dr. Jon Timperley of the Cardiology Department at the John Radcliffe Hospital, Oxford. The title of his dissertation is 'Left ventricle functional analysis in 2D+t contrast echocardiography within an atlas-based deformable template model framework'. While reading for his DPhil, Ramón was a graduate student at Oriel College.
Ramón's DPhil was sponsored by studentships and grants from the Engineering and Physical Sciences Research Council (EPSRC), Mirada Solutions (now Siemens Molecular Imaging), the Department of Engineering Science at the University of Oxford and Oriel College.
For the last two years of his DPhil, Ramón also worked part-time as Development Officer for OSS Watch, the national advisory service for open source in education. His main focus were quantitative and qualitative studies of usage of open source software in educational institutions, and was in charge of the UK-wide National Software Survey published in 2008.
From 3 Dec 2008 to 30 Nov 2009 Ramón worked as a post doctoral Research Assistant at the Computational Biology Group, the Department of Computer Science, University of Oxford, under Dr. Vicente Grau, in the BBSRC-funded project 'Technologies for Efficient 3D Histologically-Detailed Reconstruction of Individual Whole Hearts', directed by Dr. Peter Kohl, Dr. Jürgen Schneider and Prof. David Gavaghan. His main goal in this project was to build a computational anatomical atlas of the heart's ventricles from high-resolution ex-vivo MRI. It is worth mentioning as an outcome of the project, the development of a new tool to assist human experts with hand segmentation of the 4 main cardiac valves using the open-source platform Seg3D.
From 1 Dec 2009 to 31 Oct 2011 Ramón continued working as a post doctoral Research Assistant in the same group, under Dr. Blanca Rodríguez and Dr. Vicente Grau, in WP7 of the European Comission VPH project 'preDICT: Computational prediction of drug cardiac toxicity'. His main goals were to build computational anatomical models of ex-vivo human hearts and develop a method to quantify and measure the cardiovasculature.
From 9 Nov 2011 to 6 February 2012) Ramón worked as Research Associate in the Heart Science section of the National Heart and Lung Institute within Imperial College London, based at the Harefield Heart Science Centre, under Profs. Peter Kohl and Nadia Rosenthal. The aim of the research was to conduct pilot work investigating the function of SGK1 (Serum glucocorticoid kinase 1) in vessel formation, using confocal microscopy imaging.
Ramón then retook cardiac anatomy work until 6 June 2012 at Oxford Computational Biology as part of the European euHeart project.
Currently and until 7 June 2014, Ramón is working at the Oxford e-Research Centre (OeRC) as the postdoctoral research assistant in the BBSRC-funded grant "3D Histologically-Detailed Reconstruction of Individual Beating Hearts" under Dr. Vicente Grau, Dr. Jürgen Schneider and Prof. Peter Kohl.
See also
Selected Publications