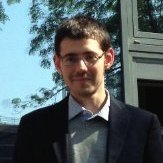 Stefano Rosa
Researcher
Leaving date: 31st December 2019
Interests
Mobile Robotics, Computer Vision, HMI
Biography
I am currently a research fellow at University of Oxford (UK), under supervision of Prof. Niki Trigoni, working on the ESPRC Programme Grant "Mobile Robotics: Enabling a Pervasive Technology of the Future".
I was a research fellow at Politecnico di Torino (Italy), working in collaboration with Telecom Italia S.P.A.
I achieved my MS degree in Computer Engineering from Politecnico di Torino in 2008. From 2009 to 2011 I was a research assitant in Politecnico di Torino, and from 2011 to 2014 I was a PhD student in Robotics at Istituto Italiano di Tecnologia (IIT) and Politecnico di Torino, working on both space robotics and service robotics.
My research interests include localization and mapping for mobile robotics, computer vision applied to robot navigation, and human-robot interaction. I also have an interest on vision-based assistive technologies.
Selected Publications
Activities
Supervisor