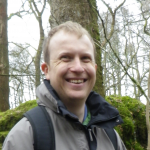 Dr Andrew Markham
Associate Professor
Director, Software Engineering Programme
E: andrew.markham@cs.ox.ac.uk
Wolfson Building, Parks Road, Oxford OX1 3QD
Interests
My Google Scholar Citations can be found here. Visit my personal website for more info about my research.
Research
I am an Associate Professor and I work on sensing systems, with applications from wildlife tracking to indoor robotics to checking that bridges are safe. I work in the cyberphysical systems group and lead a large group of researchers and students. I design novel sensors, investigate new algorithms (increasingly deep and reinforcement learning based) and apply these innovations to solving new problems. Previously I was an EPSRC Postdoctoral Research Fellow, working on the UnderTracker project. I am investigating how to localize people, animals and objects in environments where technologies like GPS fail, such as underground or indoors. Key to this is the use of magneto-inductive tracking and communication. My work is typically cross-disciplinary and I colloborate with colleagues from a wide range of disciplines. I obtained my PhD from the University of Cape Town, South Africa in 2008 researching the design and implementation of a wildlife tracking system, using heterogeneous wireless sensor networks.
Some of my work has neatly been summarized in the following OxfordSparks animation.
Biography
PhD in Electrical Engineering, University of Cape Town, South Africa (2008):
"On a wildlife tracking and telemetry system: a wireless network approach"
BSc in Electrical Engineering, First Class Honours, University of Cape Town, South Africa (2004)
Selected Publications
Activities
Projects
Completed Projects
Current Students
Research
Past Students
Past Researchers