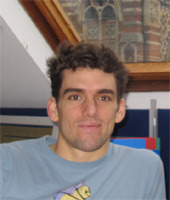 Interests
Please note: I have graduated! Please contact me at julian@dehoog.ca from now on, or visit my personal website at juliandehoog.com.
My interests include:
Multi-robot exploration, robotic search-and-rescue
Multi-agent systems, autonomous agents
Machine learning, neural networks, reinforcement learning
My research involves communication-limited exploration algorithms for teams of autonomous mobile robots. Applications include exploration of unknown terrain, search-and-rescue, and inspection of hazardous areas.
The approach developed during the course of my PhD, "Role-Based Exploration", has been demonstrated both in simulation and on a team of Pioneer robots in the CONET Integrated Testbed at the University of Seville's Robotics, Vision and Control Group.
I am also currently in charge of the Robotic Search and Rescue project and I am co-developing the Amsterdam Oxford Joint Rescue Forces , a joint team with the University of Amsterdam's Intelligent Systems Laboratory that competes in RoboCup's Virtual Robots competition. The competition involves multiple simulated robots cooperating in a search and rescue scenario.
Teaching
Selected Publications